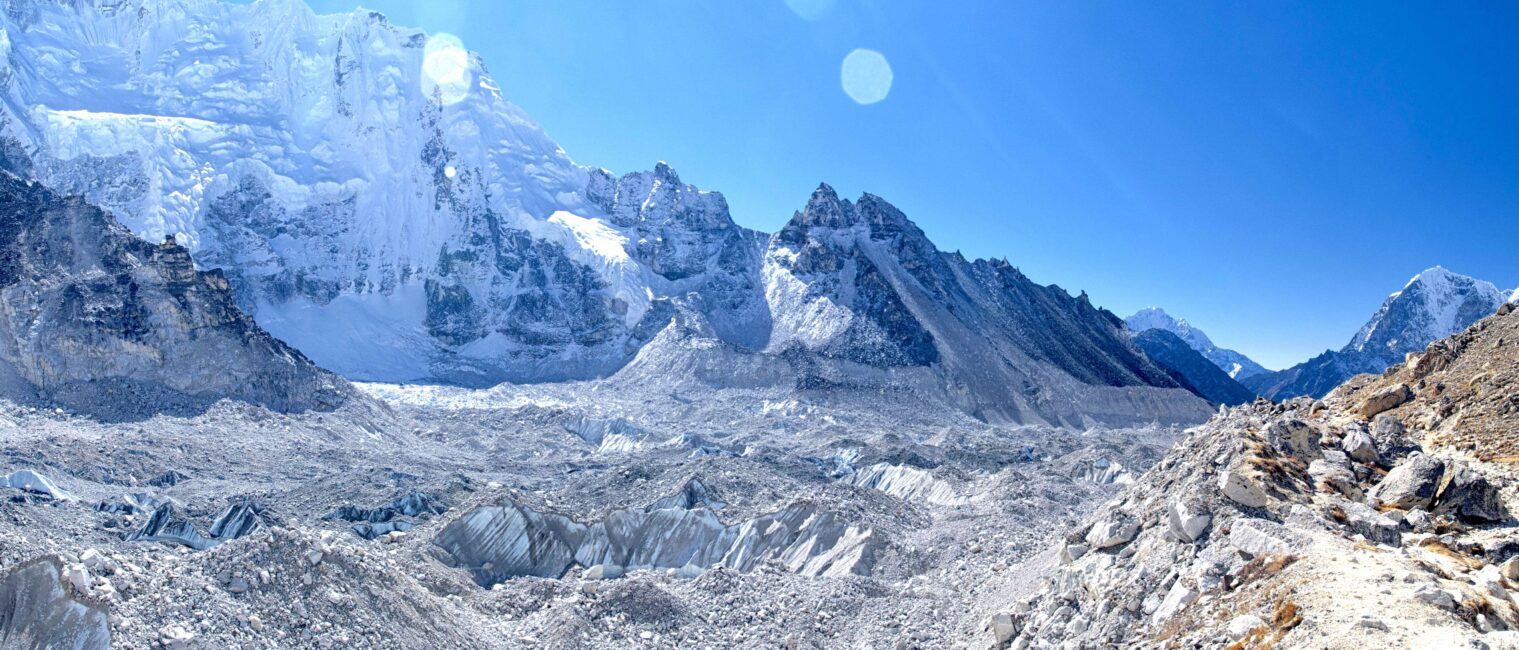 &nbsp
Overview
Everest Base Camp Trek via Ramechhap – Manthali is one of the most popular treks in Nepal. It is located in the Khumbu region, home to some of the world's highest peaks. The trek takes you through various unique landscapes and habitats that are worthwhile.
You will experience stunning views of Mount Everest and other mountain peaks, including Ama Dablam, Lhotse, Nuptse, etc. Moreover, you can see many ethnic groups living in different regions along your journey. The friendly behavior and warm hospitality of those people with alluring smiles is a moment to remember for life.
The trip starts with a drive to Ramechhap from Kathmandu and then a flight to Lukla. The flight exposes you to the Himalayas mountain range, villages, rivers, and many beautiful sceneries.
You will land in Lukla and proceed to Namche Bazaar, the doorway to the Everest region. While advancing the trek, you come across various stops like Tengboche, Dingboche, Lobuche, and Gorakshep, and thus ultimately reach Everest Base Camp.
Moreover, you get to witness the breathtaking sunrise view while visiting Kalapatthar. Standing on the foot of the mighty Mt. Everest is a dream come true. It's an experience that everyone should try at least once in their lifetime! After a glorious moment, the trek ends after getting back to Kathmandu on a flight from Lukla.
Everest Base Camp Trek via Ramechhap – Manthali is the most challenging trek. It involves a lot of walking, and it's not for people who cannot walk for several days continuously. As a consequence, it can be hazardous if you're not careful at higher elevations. However, if you're in good physical shape, this is a great challenge!
Best Alternatives
Everest Base Camp Trek | Everest High Passes Trek | Gokyo Lake Trek | Everest Base Camp Heli Trek | Salleri to Everest Base Camp Trek 
Highlights
Himalayan flight to Lukla from Ramechhap.
Stroll around the tourist hub in the Khumbu region – Namche Bazaar.
Experience the wilderness of Sagarmatha National Park's trail.
A visit to the Everest region's renowned monastery – Tengboche Monastery.
Stunning panoramas of sunrise over the Himalayas from Kalapatthar.
Indulge in the Sherpa culture and their way of life.
Astonishing perspectives on eight-thousanders like Mt. Everest, Cho Oyu, Lhotse, and Makalu.
Itinerary
DAY 01
Arrival in Kathmandu (1350m)
Our team will meet you at the Kathmandu international airport and quickly transfer you to the hotel you have reserved. Register at the hotel and relax for a while. Our guide will soon give you a briefing on the Everest Base Camp Trek Via Ramechhap – Manthali and other essential details.
You can take a stroll nearby the hotel in the evening. Later on, you'll be given a welcome dinner.
Spend the night in Kathmandu.
Destination

Kathmandu, Nepal

Altitude

1,350 M
DAY 02
Drive to Ramechhap, fly to Lukla (2,800m), then hike to Phakding (2,610m),15-minute flight and 3.5 hours hike. (3.5 hours Drive)
The travel time from Kathmandu to the Manthali (Ramechhap) airport is between four to five hours. So, get up early and take a drive to Manthali. After that, you'll experience a picturesque flight to Lukla.
Start your hike with a short stroll following the trail through the Dudhkoshi River's bank to Phakding (2,610m).
Spend the night in Phakding.
Destination

Phakding

Altitude

2,610 M
DAY 03
Trek to Namche Bazaar (3,440m), 4-5 hours
Leave Phakding for Namche Bazaar after a delectable breakfast. On moving further, you'll cross the Dudhkoshi River on our route through a suspension bridge.
After then, the pathway leads its way up until you reach Jorsale. A climb leads to Namche from there, with two significant overlooks along the route. On a clear day, you can take in the mesmerizing vista of Everest. Furthermore, you will enter Sagarmatha National Park at Jorsale to obtain a permit entry. After an arduous 5 to 6-hour hike, you'll arrive in Namche Bazaar.
Spend the night in Namche.
Destination

Namche

Altitude

3,440 M
DAY 04
Acclimatization Day
Resting today will allow your body to become acclimated to the changing elevation. The two-hour hike to the Everest View Hotel is arduous but will help in acclimatization.
As an alternative, you can stroll through the town, stop at the markets and historic homes, and have a drink at the Irish bar.
Spend the night in Namche.
Destination

Namche

Altitude

3,440 M
DAY 05
Trek to Tengboche (3,800m) 5-6 hours
Following a lovely night in Namche, you continue your trek by making your way to Tengboche. You'll be accustomed to high winds and difficult terrain by this point. As the trek advances, the trail gradually gets steeper and narrower.
En route to Tengboche, you'll pass by many monasteries, suspension bridges, waterfalls, and rhododendron forests. You can explore one of Nepal's oldest monasteries once you get to Tengboche.
Spend the night in Tengboche.
Destination

Tengboche

Altitude

3,860 M
DAY 06
Trek to Dingboche (4,400m) 5-6 hours
We start our hike by walking through the rhododendron forest to Deboche. Then you will pass through a valley, traverse several fields, and reach Pangboche town, the largest Sherpa community in the area. Our day's hike will be challenging because it leads to exposed, arid hillsides as we advance toward Dingboche.
Spend the night in Dingboche.
Destination

Dingboche

Altitude

4,410 M
DAY 07
Rest Day
The next location for acclimatization is Dingboche. Similar to earlier in Namche, these days are dedicated not to rest but rather to wandering and allowing your body to adjust to the rising altitude.
You can climb up to Nagarjuna Hills with a 3–4 hour hike on the day. This vantage point is perched on a hilltop above Dingboche. The magnificent view of Thamserku, Lobuche West, Lobuche East, Taboche Peak, Ama Dablam, and Kangtega can be seen.
After returning to Dingboche, the remaining hour can be spent wandering around the hamlet and engaging with the locals.
Spend the night in Dingboche.
Destination

Dingboche

Altitude

Nangkar Tshang Peak, 5616 M
DAY 08
Trek to Lobuche (4,900m), 4-5 hours
Because of the higher altitude, the walk will get steadily more complicated from here on out. You'll pass by Dungla, but not before a strenuous ascent to a mountain's summit. As you stroll along the ridge, you cross a row of memorial cairns created in honor of climbers and sherpas who perished during the Everest Expedition.
The further portion of your journey transports you to Lobuche across finished rugged mountain terrain. Lobuche is a tiny village with a majestic view of Lobuche, Pumori, and Nuptse.
Spend the night in Lobuche.
Destination

Lobuche

Altitude

4,910 M
DAY 09
Trek from Gorakshep (5,150m) to Everest Base Camp (5,365m), 6-7 hours
The walk today will last about eight hours. It will help if you take extra precautions from here since altitude sickness could become serious. After a hearty breakfast, the trail follows the route with an uphill hike across steep terrain next to the Khumbu Glacier from Gorakshep to Everest Base Camp.
You'll have some time to snap photos and enjoy the exquisite scenery when you get there. You will soon set out on a downhill journey to Gorakshep, where you will spend the night.
Spend the night in Gorakshep.
Destination

Gorekshep/Everest Base Camp

Altitude

5,364 M
DAY 10
Trek to Kalapathar (5,545m) and descend to Pheriche (4,200m) 6-7 hours
Get up early to travel to Kalapatthar today for a spectacular sunrise over the Himalayas. The early morning hike is the main highlight of the Everest Base Camp Trek Via Ramechhap.
Of the entire journey, this might be the ideal moment to be mesmerized by Everest and its surrounding spires' enticing splendor. After spending a glorious moment, hike back to Gorekshep for breakfast and continue to Pheriche.
Spend the night in Pheriche.
Destination

Kalapatthar/descend to Pheriche

Altitude

5,545 M
DAY 11
Trek to Namche Bazaar (3,440m), 6-7 hours
The journey starts earlier than usual because today's walk is lengthier than on other days. After a hearty meal, you leave the Pheriche village and start walking toward and across a river.
As you proceed, you come to a familiar path that you previously walked. You walk downward, gradually losing elevation while repeatedly observing the mesmerizing view. You reach Namche after passing through several villages, including Pangboche, Deboche, Tengboche, and many others.
Spend the night in Namche.
Destination

Namche

Altitude

3,440 M
DAY 12
Trek to Lukla (2,800m), 6-7 hours
It takes about 7 hours to descend from Namche to Lukla. Your stay in the Everest region will finish on this day. Bring this trek to a close with a memorable stroll down to Lukla.
Spend the night in Lukla.
Destination

Lukla

Altitude

2840 M
DAY 13
Fly Back to Ramechhap and Drive to Kathmandu, 15 minutes flight and 3.5 hours
Your trek to Everest Base Camp comes to an end today. Get up early and travel back to Kathmandu on a flight. Before reaching the capital, you will enjoy one more look at the majestic Himalayan scenery.
You can enjoy a stroll around in the evening and buy some souvenirs. You can also go to cafes, bars, restaurants, and other places for refreshments.
Spend the night in Kathmandu.
Destination

Kathmandu

Altitude

1,350 M
DAY 14
Final Departure in Own Country
It's time to return home. After having your final breakfast in Nepal, you'll be taken to the Kathmandu International Airport for your flight.
Includes/Excludes
What's included?
Airport picks up and drops off by private vehicle.
Three-time Meal During trekking(Breakfast-Lunch-Dinner)
All ground transportation on a comfortable private vehicle as per the itinerary
Drive from Kathmandu to Manthali (Ramechhap) and flight to Lukla
English Speaking and government-certified Guide
A porter for 2 trekkers (1:2)
Staff costs, including their salary, insurance, equipment, food, and accommodation
All necessary paperwork and trekking permits (TIMS/VDC permit)
Medical kit (carried by your trek Guide)
All government and local taxes
Trekking certificate after trek completion
What's excluded?
Nepal visa fee
Excess baggage charge(s)
Private transportation
Extra night accommodation in Kathmandu in case of flight delays and other issues
Travel and rescue insurance
Trekking Equipment
Personal expenses (phone calls, laundry, bar bills, battery recharge, extra porters, bottle or boiled water, shower, etc.)
Tips for guide(s), porter(s) and driver(s)
Useful Info
Best Time for Everest Base Camp Trek Via Ramechhap
The most appropriate time for the Everest Base Camp Trek Via Ramechhap is during the Spring and Autumn seasons. Due to favorable weather conditions, it is easier to trek during these months. Also, it is possible to trek during the winter and the monsoon season if you can bear challenges like extremely cold temperatures. However, we do not recommend trekking during the monsoon season due to the slippery, muddy chance of avalanches and heavy snowfall.
Spring season is the popular season for Everest Base Camp Trek Via Ramechhap due to mild weather conditions. Most of the time, the skies remain clear and offer fantastic views during the trek. Mt. Everest (8,848 m), Mt. Cho oyu (8,201 m), Mt Makalu (8,481 m), and Mt. Ama Dablam (6,812 m) are some of the mountains seen clearly during the spring season. Also, it is the time for the Rhodendron to bloom in the forest, which makes the trails beautiful.
Similar to the spring season, the autumn season is also a popular season for trekking. Favorable climate conditions during the day and night make tea houses and trail crowds during this season. We recommend booking the accommodation before the trek because all the teahouses and lodges are packed with travelers.
Trekking in the winter is possible, but certain factors make the trek difficult. Trekkers should be well prepared during the winter season with proper gear and equipment. The weather is extremely cold, and heavy snowfall makes the visibility poor. Also, the weather condition is not favorable for the rescue operations.
Lastly, the Everest Base Camp Trek Via Ramechhap during monsoon is not recommended. During this season, the trekking trails can be muddy and slippery, which can be a hassle. On the other hand, floods and landslides occur frequently due to heavy rainfall.
Manthali to Lukla Flight Operation During
Everest Base Camp Trek Via Ramechhap
According to the airline's authorities, a flight from Kathmandu to Lukla was diverted to Ramechhap airport because of heavy traffic and backups.
The Lukla flight is the most well-known and crowded flight journey among the top STOL flights in Nepal. Due to increased traffic congestion and gridlock caused by these STOL planes, they have a significant impact on both international and domestic flights.
The goal is to lessen and manage the overall traffic congestion, including construction-related delays. A Ramechhap to Lukla flight is substituted for the original Kathmandu to Lukla flight. And hence the Everest Base Camp Trek Via Ramechhap. 
Domestic airport Manthali is located in the Ramechhap district's seat, about 132 kilometers to the east of Kathmandu. The BP Highway requires an about 4 to 5-hour vehicle trip from Kathmandu to get reach the airport. Manthali is a little village with few tourists, but that will undoubtedly change coming spring.
Manthali to Lukla
The flight from Manthali to Lukla is a short one, and it's an ideal way to get from Manthali to Lukla. It takes around 20 minutes to get there. In addition, the flight will take you through some beautiful landscapes, which are sure to make your trip more enjoyable.
Active airlines that fly from Manthali to Lukla
Looking for active airlines that fly between Manthali and Lukla? Check out our list of the best ones to help you compare the different options we've found.
Summit Airlines
Tara Airlines
Simrik Airlines
Sita Airlines
Shree Airlines
Nepal Airlines
Yeti Airlines
Makalu Air
Guna Airlines
Ramechhap (Manthali) Airport
One of Nepal's districts, Ramechhap has a total size of 1,546 square km and is heavily populated by the Brahmin, Chhetri, and Tamang ethnic groups. Likewise, natural resources and religious and cultural heritage are abundant in Ramechhap.
Additionally, the Ramechhap airport is located in Manthali, the Ramechhap headquarters (near the banks of the Tamakoshi River). The word Manthali, which means "the place of eating Mun," is derived from two Majhi words, one of the fishing tribes in Nepal.
Alternative To Ramechhap-Lukla Flight
A helicopter flight can be an alternative to the Ramechhap – Lukla flight. This helps you catch your intended Everest Base Camp Trek Via Ramechhap itinerary and board your international journey. Compared to a flight, travel to Lukla via helicopter is advantageous. For USD 2,500 more per trip in addition to the cost of the flight from Kathmandu to Lukla, a reserved private helicopter can be arranged.
Similarly to that, a one-way helicopter charter from Manthali to Lukla will set you back an additional USD 1800. The number of seats is five. i.e., you and the other passengers will split the cost. If you're lucky, the price may occasionally decrease if there are passengers who will split the cost of the trip in both directions. Our WhatsApp +9779841936940.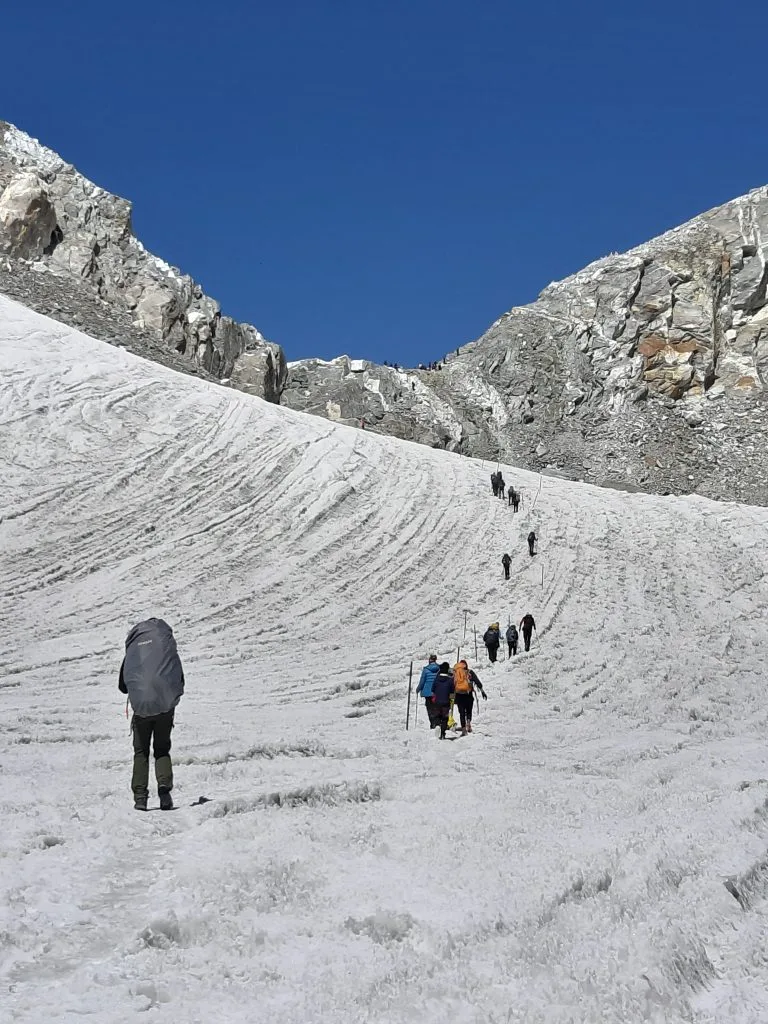 FAQs
Why should I choose the Everest Base Camp Trek Via Ramechhap - Manthali route?
Because of its dependability and fewer flight cancellations, the Everest Base Camp Trek Via Ramechhap – Manthali route is frequently preferred over the Lukla route. It provides a more exciting and less crowded alternative to the Everest region.
How can I travel to Ramechhap – Manthali from Kathmandu?
When is the best time of year for a trek to Everest Base Camp via Ramechhap-Manthali?
Is it possible to find ATMs along the Everest Base Camp Trek Via Ramechhap - Manthali route?
Is hiring a porter and guide essential for the Everest Base Camp Trek Via Ramechhap - Manthali?
What is the highest elevation attained during the trek, and how should I prepare for altitude sickness?
Are there emergency services available on the trail during a medical emergency or an accident?
Do I need travel insurance for the Ramechhap-Manthali route to Everest Base Camp?
How can I book my trek to Everest Base Camp via the Ramechhap-Manthali route?
What is the cost of Ramechhap-Manthali route to Everest Base Camp?
What should I do if the Ramechhap airport is closed due to poor weather or flight cancellations?
Group Discount
No. of PaxPrice per Pax

2- 5

USD 1120

5-10

USD 1100
Other Packages