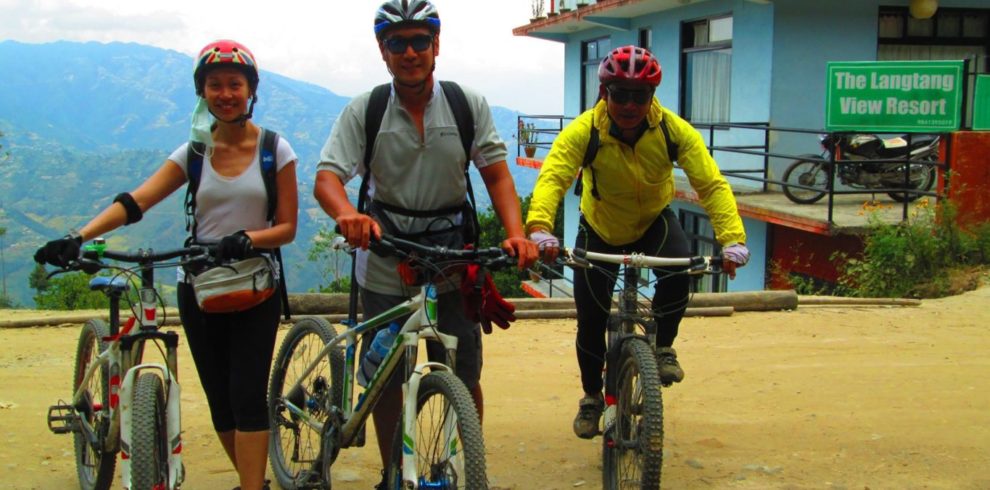 &nbsp
Overview
Kathmandu Nagarkot Dhulikhel biking is a smaller than expected daytime trip that returns one to certain renowned travel's completion close all through the bowl. Press in the midst of the twofold most predominant countries of the world, China alongside India; Nepal assimilates among the most noteworthy tough scopes of the earth. Nepal Mountain biking journey gives an ecologically solid strategy for investigating this sublime beachfront country, its wide-open notwithstanding the living custom.
You will discover attractively of substance roadways notwithstanding ways in Nepal to satisfy each mountain biker's most stunning whimsical. Mountain biking is an enamoring procedure to travel the paths of this bowl, seeing little-perceived wards, sacrosanct forests and from the way landmarks and sanctuaries. We'll race into the purified Namo Buddha that is seen among the most steadfast favored zone for Buddhism. The interesting part of the journey is to deliver an excursion to Nagarkot that is acclaimed in light of its elevation sees nightfall notwithstanding dawn. It's conceivable to appreciate the immaculate excellence of this scene, Nepalese administration, routine asylums, otherworldly establishment notwithstanding the vision of this mountain.
Itinerary  Overview
Day 01: Cycling from Kathmandu -Mulkharka, 22km
Day 02: Cycling from Mulkharka – Chisopani 21km.
Day 03: Cycling up and downhill Chisopani – Nagarkot 25 km
Day 04: Cycling Nagarkot – Namo Buddha- Dhulikhel (35 km)
Day 05: Cycling Dhulikhel to Kathmandu via Bhaktapur 32km
Itinerary
DAY 01
Cycling from Kathmandu -Mulkharka, 22km
Cycling from Kathmandu -Mulkharka, 22km/Today you leave Kathmandu via Budhanilkantha and enter the Shivapuri national park. You will be riding uphill and a bit steep for the last 3km.you have Good views of the valley, over the ring road it's traffic-free off-road biking. You can visit a historic Gompa / Monastery. Overnight at Mulkharka.
DAY 02
Cycling from Mulkharka - Chisopani 21km.
Today you follow a jeep track up and down into the heart of the national park. From Chisopani you can have good mountain views. Overnight in Chisopani
DAY 03
Cycling up and down hill Chisopani - Nagarkot 25 km
Today is also traffic free riding as you leave Chisopani via the track and ahead up to Nagarkot. Nagarkot is a scenic hill top village and famous for having the best mountain views in the valley.
DAY 04
Cycling Nagarkot - Namo Buddha- Dhulikhel (35 km)
Today After breakfast you will be having sunrise views over the Himalayas, we ride down the hill leaving Nagarkot top to Nala and other Newari Village. On the way we cross some interesting villages of Chettri and Brahamin people and their daily life on the fields. Then we leave to Dhulikhel on a dirt trail Climbing up and descending small hill before reaching the holy Buddhist site of Namo Buddha. According to legend it was here that Buddha, in a previous incarnation, fed his flesh to a hungry tigers as an offering. A stone statue marks the site; there is an active monastery on top of the hill. We follow the charming view along pitch and dirt roads back to Dhulikhel. We spend a night at Dhulikhel. Enjoy sunrise in the morning.
DAY 05
Cycling Dhulikhel to Kathmandu via Bhaktapur 32km
Today mostly downhill t as you ride roads and tracks back to Kathmandu. You stop for sightseeing in the ancient town of Bhaktapur where you can take local sights and know bit newer culture.
Includes/Excludes
What's included?
Hotel accommodation in Kathmandu with BB Plan as itinerary
Major Meals; Breakfast, Lunch, and Dinner by Hotel menu
Accommodation during the Trip as best available Hotel
National Park permits, fees
Mountain bike, equipment's, repairing parts
Professional English speaking Cycling Guide (Language can request)
Insurance for Tour Guide and their daily wages
All Official taxes and service charge.
What's excluded?
Personal natural expensive except above programs
Travel/Accident/Medical /emergency evacuation Insurance
Meals during your stay in Kathmandu
Personal Tour gears
Drinks except tea and coffee during Trip
Tips for cycling Guide after the trip
Group Discount
No. of PaxPrice per Pax

2-5

USD 450

5-10

USD 400
Other Packages