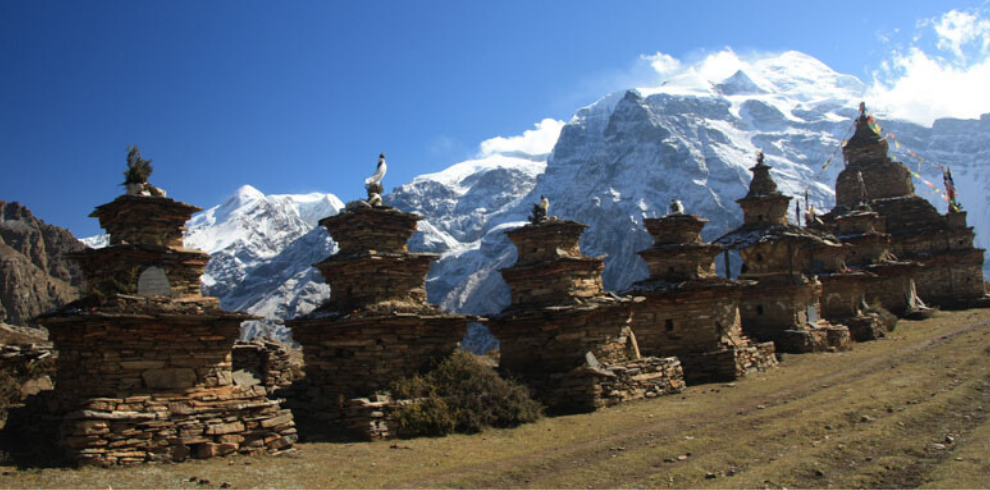 &nbsp
Overview
Nar Phu valley trek is one of the awesome trekking trails. This trekking trail is loved by many tourists in today's context. You will be able to see many high mountains, cliffs, villages, forests, and various flora and fauna. You can see yaks, gompas and different unique Tibetan cultures can also experience there.
Before 2002 this trekking route was not so popular only a few tourists explored the 7000-meter peaks surrounded by those villages. The traditional starting point of the Annapurna Circuit is known as Besisahar. You can see many other trekkers in that place. 
During this trek, you will be able to interact with the villagers in Phu while they are going out for their daily activities. You can hang out with them at that time. You will spend the night at the Nar Phedi monastery. if you want then you can also hike up to Himlung Himal Base Camp. 
On this trek, you will be able to see the lifestyle of the Tibetan people and the activities that they carried out in their daily life. You will be walking in the different and amazing rock structures and the diverse topography of the region. Annapurna I. 
The most challenging pass of this trek is Thorong La Pass (5416 meters). During this trek, you will pass through different gumba, monasteries, etc to reach Muktinath temple in Mustang which will provide you satisfaction. This trek is taken as the least trekked area and it was started in 2003. A special permit is required to enter this valley trek.
This trek helped in exploring the less-developed villages, forests, and other natural resources of this valley. This trek also has helped in exploring the Tibetan people of this valley and the many high mountains of this valley. Marshyangdi River bridge is the gateway to enter the Nar Phu Valley. You will experience the amazing trek bypassing various forests and rivers during this trek. 
This trek is also considered a tough trek in comparison to others. You must be physically fit and must have experience in trekking. You need to trek for 5-6 hours during this trek. Manang is the route through which you can reach Nar Phu valley and it continues over the Thorong La Pass and again join to the Annapurna trail at Muktinath. Muktinath is also known as the Hindu pilgrimage town. 
In the Muktinath area from Jomsom, you can walk or you can fly to Pokhara or continue your trek downwards to Kali Gandaki River. Marpha is considered an interesting and unique village on that trail. You can learn about the unique culture and traditions of the people living in that valley. You will see the farmer who is growing different crops for their livelihood and you can know them and their lifestyle more nearly. 
Nar Phu valley trek is not a much famous trekking trail but has much good and eye-catching scenery. This trail is loved by many tourists and you can see many natural resources here. Many mountains can be seen through this valley trek. 
Itinerary
DAY 01
Bus Kathmandu – Besisahar (820m), 7 hrs. Bus Besisahar – Chamje (1470m) 2 hrs
Today we woke up early in the morning had our breakfast in the hotel at Kathmandu and start our journey. we first get into the bus and drive towards Besisahar. it took nearly 7 hours for us to reach Besisahar from Kathmandu by bus. we had lunch there and did some sightseeing and took rest for a while. then again we start our journey towards Chamje from Besisahar. it took us 2 hours to reach there. we saw many mountains on the way. we did sightseeing Chamje. we saw many villages and the villagers with various cultures and traditions.
DAY 02
Chamje (1470m) – Dharapani (2113m), 7 hrs
Today we woke up early and after having our breakfast we start our trek. Today's destination was to reach Dharapani from Chamje. It took us nearly 7 hours to reach Dharapani from Chamje. We saw the stunning view of Annapurna II from there. And the villages, flora, and fauna were so attractive. we got a chance to have a close view of the culture and tradition of the people living there.
DAY 03
Dharapani (2113m) – Chame (2620m), 7 hrs
Today we woke up with the amazing sunrise view from Annapurna II. This made our morning so amazing. We start the trek from Dharapani after having breakfast. Today we were heading towards Chame from where we see many attractive mountains. it took nearly 7 hours for us to reach Chame from Dharapani. We saw one of the best attractive mountain i,e.Mardi Himal. the snowcapped Mardi Himal was too stunning.
DAY 04
Chame (2620m) – Meta (3230m), 7 hrs
Early morning after breakfast we head towards Meta from the hotel at Chame. The accommodation and Fooding facility until today was awesome. We enjoyed it a lot and the views were stunning. Our final destination was not reached yet so we started moving forward. It took us nearly 7 hours to reach Meta from Chame. The attraction and the views o the natural resources won't let us feel tired.
DAY 05
Meta (3230m) – Phu Village (4050m), 7 hrs
Today after having breakfast we move towards the extremely remote village of that area. We also saw the stunning view of many peaks like Annapurna II, Gangapurna, Manaslu, Tilicho with Dhaulagiri range, Nilgiri and as well as Lamjung Himal. We experience walking through High pass on this day. these peaks were so amazing that our eyes were not removed from them. the golden view of the mountains at the time of sunset and sunrise was incredible.
DAY 06
Exploration day - Phu village and excursion the Himlung base camp.
Today we explored Phu village along with its natural resources and mountains. The snow-capped mountains were stunning. The culture, tradition and the way of their earning and also lifestyle can be seen closely. Then we head towards Himlung base camp. this day was named the exploration day because we explored the various culture tradition of the people living there and the views of the stunning mountains too.
DAY 07
Phu Village (4050m) – Nar Phedi (3820m), 6 hrs
Today at 6 am we start our trek after having breakfast. We start our trek from Phu Village to Nar Phedi which was nearly 6 Hours journey. We saw villages with beautiful mountains view. The snow-capped mountains were very stunning. This 6 hours journey will be with us throughout our life. The amazing sunrise and sunset and the hilarious snowy mountains will always remain in our eyes.
DAY 08
Nar Phedi (3820m) – Nar Village (4150m), 4 hrs
After having breakfast at the hotel by looking sunrise we head towards Nar village from Nar Phedi. The journey was nearly 4 hours but the views and the scenery are seen during trek won't let us feel it hard. Nar Phedi is at the altitude of 4150 m. we can see many mountains ranges from this height and the feeling was adorable. after that, we reached Nar village and saw the village with unity in diversity. people from different cultures were living with unity.
DAY 09
Explore Nar Village and Gompa Monasteries
Today we woke up with the aim to explore the Nar villages and the various Monastries like Gompa monasteries. Villages at the Nar have their own beauty the people and their culture are attractive. their way of living are different and amazing. their amazing culture economic activities are also unique. all these monasteries are historical and have much importance too.
DAY 10
Nar Village (4150m) – Ngawal via Kang La Pass (5,130m)
Day 10 was the day to reach Ngawala via Kang La Pass and we start moving forward from Nar Village. Nar village is at the height of 4150 m from the sea level and the Ngawala via Kang La Pass is at the height of 5130 m from sea level. this is the pass-through in which we can see many mountains and the red forest due to rhododendron. we can see many mountains from the Annapurna ranges and the other natural beauty too.
DAY 11
Ngawal – Chame (2620m)
After a light breakfast, we head towards Chame from Ngawal. today is day 11 of our trek and we got a chance to see that natural beauty that was not able to see by us last time during climbing up. we saw many snowcapped mountains and green forests. The flora and fauna found here are eyecatching. We can see other natural beauty too and the unique diversity of that area too.
DAY 12
Drive Chame – Besisahar, 5 hrs. Drive Besisahar to Kathmandu, 6 hrs.
Today early in the morning we are heading towards Kathmandu. First, we drive from Chame to Besisahar which took us nearly 5 hours. Then after having lunch at Besisahar, we start diving from Besisahar to Kathmandu. During this driving, we saw many high mountains and many forests with rhododendron that make it red forests. this trek was one of the best experiences in our life and will like to visit every year.
Includes/Excludes
What's included?
A certified local Nar Phu Valley Trekking guide.
1 Sharing trekking porter for two trekkers (weight limit 25/kg/porter)
Local sharing transportation to and from trekking.
Trekking lodge and homestay accommodation on twin sharing basis.
Meals: 11 Breakfasts, 12 Lunches, and 11 Dinners.
Guide and porters fee with all their expenses in the trek.
All necessary Nar Phu Valley trekking Permits for 12 days.
Office service charge, government tax, vat, etc.
Insurance and trekking gear for guide and porters.
What's excluded?
Accommodation, meals, and transfers in Kathmandu.
Guided tour and monuments entrance fees in cities.
Bar drinks, beverages such as coke, fanta, mineral water, laundry service, and toiletries.
Personal nature expenses, hot shower, hot water, internet, and phone calls.
Personal travel insurance and trekking gear.
Hiring horse/pony or extra porter if necessary.
Rescue operation charge in case of emergency.
Gratitude and tips for your guide and porter.
Group Discount
No. of PaxPrice per Pax

2-5

USD 900

5-10

USD 850
Other Packages