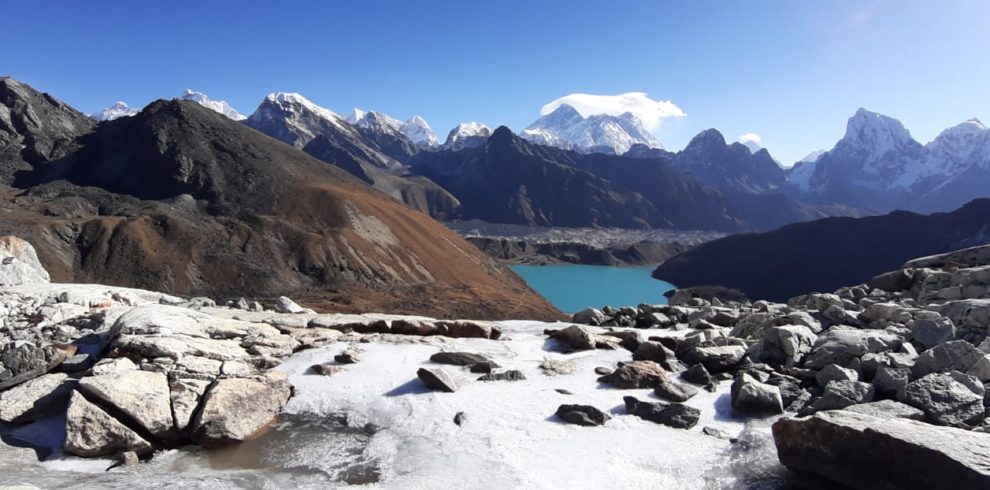 &nbsp
Overview
The Everest Region is one of Nepal's best climbing goals. likewise, the Everest Base camp With Gokyo Lake Trek is its own particular preeminent climbing enterprise. Moreover, it spreads over three moves more than 5,000m, each offering phenomenal landscape and perspectives.
Everest Via Gokyo Ri Trek is a high height trek which investigates Sherpa Homeland ( Namche Bazar). At that point, the street climbs to grand Gokyo Valley into the frigid lakes underneath Cho Oyu( 8153m.). Everest with Gokyo Lake Trek Gives the glorious perspectives of Majesty Himalayas. This includes, Mt. Everest, Mt. Lhotse, Makalu, Cho Oyu. However glorious mountain sees this audacious climbing gives the mainstream Cho la pass, Sherpa's neighborliness, vegetation and faunas of Sagarmatha National Park, beautiful Buddhist religious communities wrapped with supplication banners, Khumbu Glacier and a ton more.
Kalapathar is simply one more feature of Everest with Gokyo Lake Trek that is equally important to encounter all-encompassing perspectives of Mt. Everest and its neighboring mountains. Likewise, Gokyo Valley commonly called the Yeti's home would be a fantastic test and furthermore an accomplishment. Even though, Everest Via Gokyo Ri Trek is evaluated as a hard one it matches physically solid and prepared trekkers who truly venerate a test.
Hence, Everest with Gokyo Lake Trek is critical do trekking for the individuals who have a longer period around there. Without question trekking in Everest Region with Info Nepal Tours Treks staff is a beneficial affair. Additionally, Our well disposed and expert experienced professionals will make your trekking to Everest Base Camp Via Gokyo Ri totally magnificent.
Everest Base camp with Gokyo Lake Trek Highlights
Everest base camp
Gokyo Lake
Gokyo Ri
Beautiful Gokyo Valley
Khumbu Icefall
Kala Patthar
Tengboche Monastery
Itinerary Overview
Day 01 : Fly Kathmandu to Lukla and trek to phakding
Day 02 : Trek to Namche (3440m)
Day 03 : Rest Day In Namche/Acclimatization.
Day 04 : Trek to Mongla (3970m)
Day 05 : Trek to Dole (4038m)
Day 06 : Trek to Machhermo (4465m)
Day 07 : Trek to Gokyo(4720m)
Day 08 : Trek to Machhermo (4465m)
Day 09 : Trek to Phortse (3840m)
Day 10 : Trek To Dingboche(4400m)
Day 11 : Trek to Lobuche(4900m)
Day 12 : Trek to Gorak Shep – Everest Base Camp-Gorakshep(5160m)
Day 13 : Trek to kalapaththar to pheriche(4200m)
Day 14 : Trek to Namche Bazaar (3346m)
Day 15 : Trek to Phakding (2652m)
Day 16 : Trek to Lukla (2800m)
Day 17 : Fly Back Kathmandu
Itinerary
DAY 01
Fly Kathmandu to Lukla and trek to phakding
Early at the beginning of today you will load onto a plane to get a quick travel from Kathmandu to Lukla (2827m) (around 45 minutes). That is no general flight – you will fly parallel to the monsters of the Himalayas and, regardless of whether the climate is awesome, be sure that you secure a seat on the left for great perspectives of the slopes circumscribing Nepal and China. You will contact down on an airstrip worked by Sir Edmund Hillary and the Sherpas from the mid-1960s. At that point the time has come to fulfill your watchmen and require a while to warm up with an examination of the town of Lukla. Following a fast security talk, outfit and begin your trek to Phakding. You will plunge towards the frigid cold waters of the Dudh Kosi River, where you may join the principle trail to Namche Bazaar, arranged simply above Chaunrikharka (2713m). The walk is simple and in the wake of going through the little town of Ghat (2550m), it is only a short stroll to Phakding.
DAY 02
Trek to Namche (3440m)
Today you will trek around 7 hours to Namche Bazaar, where you will spend a couple of days acclimatizing to the elevation. You will likewise get your first take a gander at Everest itself. From Phakding you will cross the stream and head up the valley, following in the strides of the watchmen stuffed with provisions for Namche Bazaar. The street, fixed with blue pine woods, takes after the stream valley and can be especially breathtaking in spring once the rhododendron blooms are splendid in bloom. Cross the Dudh Kosi River in Benkar, and appear to be far up more than 6,000 meters to decide the pinnacles of snow-topped Kusum Kanguru (6369m) and Thamserku (6623m). Press to Monjo (2835m), a phenomenal place to break for lunch. From here the walk starts to get somewhat harder, with a precarious climb to Namche Bazaar. Enter to the recreation center, cross the waterway through the town of Jorsale (2805m) and proceed . Cross another radiant suspension extension and begin the climb to Namche Bazaar. Get out your camera as today there'll be the main look of the pinnacles of Everest, Lhotse, Nuptse and Taweche. Namche are your last chance to affirm your apparatus and utilize any additional hardware to your high elevations from Dingboche onwards. Namche Bazaar is likewise the last chance to appreciate the neighborhood nightlife or visit the pool lobby and motion picture parlors
DAY 03
Rest Day In Namche/Acclimatization.
You will stay at Namche Bazaar for a second night so you can accurately adapt to the height. Among the best approaches to do as such is to just take strenuous stroll up to a best rise at that point return down to rest so there is a discretionary stroll over the Bhote Khola River Valley towards Thami (3810m). Going for a walk to see both the dawn and nightfall sees in the recreation center base camp over the town is likewise a superb option. This grand vista includes a super display of the Khumbu tops and fabulous perspectives of Everest. The government stop home office are home to intriguing showcases about Sherpa culture and way of life, and additionally likewise the nearby verdure. Namche picked up its essentialness for the duration of the time when Tibetan salt was traded for its marsh grains of Nepal. Floor coverings, garments, dried and salt meat in any case complete a thundering exchange from the town focus, thusly deal for any extra supplies you may require.
DAY 04
Trek to Mongla (3970m)
By Namche, you may climb to the airstrip in Shyanboche, at that point to a lunch put in Khumjung, the greatest town in the territory. Here you can top off on dhal bhat, noodles, and considerably more. Transcending above Khumjung is the hallowed rough summit of Khumbilya (5761m). It is the place of the defender goddess of the territory, as often as possible portrayed in religious canvases (or even thangkas) as a white-colored figure on a steed. The street twists over Khumbilya's lower inclines, going through wonderful birch woods and afterward scaling out of treeless, verdant slants into a stupa over a rough valley (3992m). Yet again the perspectives of the encompassing mountains are altogether glorious. Phortse could be found all through the valley – a pleasant town set in an interwoven of stone walled regions. You'll remain medium-term in the group of hotels on the seat, additionally called Mongla.
DAY 05
Trek to Dole (4038m)
Acclimatization is intense, so ensure you relax throughout the following 3 times and don't propel yourself too hard. By Mongla, dive 300 meters on a progression of bend ways to the Dudh Kosi River in Phortse Bridge. The street to Gokyo could be misdirecting and a couple can rise too quick, anyway you'll take as much time as is needed. Leaving Phortse Bridge, you will rise steeply at first and after that shape high finished the valley, getting a charge out of astonishing perspectives (extremely, every assessment is outside excellent ) of Kantega, Thamserku and Ama Dablam (6856m). Around one hour's walk around Phortse Bridge, you will get your first perspectives of this epic summit of Cho Oyo (8153m) in the leader of this valley. Trek outside of the tree line and move some monumental cascades while in transit to the yak crowding settlements of Tongba (4015m) and Gyele (4050m). From here it is a short space to Dole, in which you will spend the night. You will likewise investigate the best Dole Valley while you are here, returning utilizing a high edge over the cabin to shoot some phenomenal pictures of Cho Oyo and Gyachung Kang (7922m) into the northwest, and Taweche (6542m) and Cholatse (6440m) all through the valley toward the east.
DAY 06
Trek to Machhermo (4465m)
You may come to love the expression'brief strolling evening'. Presently will be only that, utilizing an ascent from the little Dole Valley before a moderate rising up the Dudh Kosi Valley, high over the waterway. Despite the fact that the walk is somewhat simple you will start to feel the impacts of height on the littlest mountain. The exposed high landscape, with just modest groups of clean juniper, is a conspicuous difference to the cold white pinnacles and dark blue sky. Following a couple of hours you will touch base in Luza (4360m), at that point soon enough you will hit the paychecks in Machhermo – this evening's cabin. On the off chance that you are as yet feeling lively, at that point after lunch there is the decision to pick a trek crosswise over rough rubble into the base of Kyajo Ri (6168m) and Machhermo Peak (6073m). Watch out for a sasquatch anyway – it had been seen in 1974 after three yaks were killed alongside a Sherpa lady was harmed when endeavoring to battle a bushy, primate like gatecrasher!
DAY 07
Trek to Gokyo(4720m)
Presently you will require another word to depict the shading blue in the wake of survey the Gokyo Lakes. A short, soak climb leads in the Machhermo Valley on into the precarious lush slants of the Dudh Kosi Valley. Keep an eye open for the energetic Tibetan snow cocks, much of the time introduce inside this field. The valley augments as you go through Pangka (4390m) and to this muddled moraines (ice sheet flotsam and jetsam) of Ngozumpa Glacier, the biggest in Nepal and furthermore the birthplace of the Dudh Kosi River. Climbing steeply over a rough trail you will keep into the western side of the icy mass to accomplish a little lake in the core of an expansive valley and pass a greater lake in Longpongav (4690m), before after the horizontal moraines into the third lake in Gokyo (4750m). Gokyo has many shake abodes encompassed by shake walled yak pastures. Presently's hotel is arranged close to the lake and, regardless of whether there aren't any mists round, the sunroom will be flawless and hot in the day. For those inclination fiery, it is well worth climbing to the edge in the back of Gokyo for assessments down into the compelling Ngozumpa Glacier.
DAY 08
Trek to Machhermo (4465m)
Get up early to get a few hours scale up Gokyo Peak, which includes among the best panoramas in the Khumbu area. It is a simple but steep rise, and it may be tiring because of the elevation. There is also a bird's eye perspective of the Gokyo lakes along with also the huge creaking Ngozumpa Glacier, today cutting halfway through the globe and snaking its way down the valley much below. You will return back to Gokyo to get a late breakfast and then retrace your steps back into the snout of the glacier and keep down the valley back into Machhermo. You may be surprised readily and fast you will pay the return path — that is acclimatisation!
DAY 09
Trek to Phortse (3840m)
Nowadays we have got something unique to talk with you. Not a lot of classes quit in Phortse, a conventional Sherpa village that provides an insight into their own life and civilization (so let's keep it our little secret). Here you will be almost entirely over the tree-line, therefore the sunsets make for ideal pictures. A leisurely start to the afternoon will end down the valley into Dole, where you will go into the woods to keep the descent into Phortse Bridge. Keep an eye open for musk deer, that can be often viewed on this part of this road. Here you're going to stop for lunch then branch off the main trail to Namche, crossing the Dudh Kosi and ascending to the village of Phortse, where several trekkers pass onto their own Everest trek. The magnificent mountain views, quiet and peace of the village make this among the highlights of this trek.
DAY 10
Trek To Dingboche(4400m)
This morning's walk will take you across a ridge before descending in an exposed road into the Imja Khola. Keep an eye open for Himalayan tahr, frequently seen perched precariously on the crags top over the trail. Connect the road coming from Thyangboche through the suspension bridge, then slowly climb into the village of Pangboche, in which the summit of Ama Dablam overlooks the skyline. Have lunch and then take the chance to find the gorgeous monastery that once placed (what was maintained as) the scalp and hand of a yeti. After lunch, then follow the road high above the Imja Khola, passing the tea homes at Orsho, before again crossing the Imja Khola and older glacial moraines into some lodge Dingboche. Here you will get a gorgeous patchwork of small fields enclosed by rock walls. These walls shield plants of barley and potatoes from the cold winds. The scene is once more spectacular and even though Everest is going to be concealed beneath the Lhotse-Nuptse Ridge, the tremendous peaks which tower over the eastern end of the valley are more than deserving. If the weather is appropriate, then there'll be stunning sunsets illuminating the peaks — Ama Dablam, the south face of Lhotse to the north, and additionally Island Peak at the middle of the shore.
DAY 11
Trek to Lobuche(4900m)
By Dingboche, ascend the little ridge behind the village over the Pheriche valley. In the stupa on top, Taweche and Cholatse (6440m) create a fairly dramatic scene; they appear to lean forward from throughout the valley from the west. On the northwest, Lobuje Peak (6119m) and the snowfields of the Cho La would be the kings of this skyline. The walking will be pretty flat on wide-open areas, but keep in mind that there is no hurry — just take your time and make sure you are well hydrated. Late in the morning you'll cross the Khumbu Khola in Dughla and require a light lunch in the foot of this enormous terminal moraines of the Khumbu Glacier flowing off Everest. In the day, there'll be a strong and rather steep rise on a rocky path to the peak of the moraines. On the crest of this ridge, you are going to pass a line of memorial cairns (heaps of stone ), built in memory of the Sherpas and climbers that have died on different Everest expeditions within the past fifty or so years. From here the view is completely spectacular once more, together with Pumori (7145m), Lingtren (6697m), Khumbutse (6623m), and across the border from Tibet, Changtse (7550m), surrounding you. Then stick to the valley flow into the paychecks at Lobuje, arriving early afternoon. Undoubtedly you are going to be exhausted now, but recall tomorrow's strategy -Everest Base Camp.
DAY 12
Trek to Gorak Shep - Everest Base Camp-Gorakshep(5160m)
That is the large one, the afternoon of Everest Base Camp. Enjoy a leisurely breakfast as the trek to Gorak Shep is comparatively brief. By Lobuje, follow the wide valley which runs parallel to Khumbu Glacier, using a slow ascent permitting you to construct the slow, steady rhythm needed when walking in high elevation. When you get to the moraines of Changri Nup Glacier, you will earn a run of small ascents and descents above a rocky road lined with cairns that finally contributes to the sudden glacial areas of Gorak Shep (5160m) — attained after about three hours of walking. Now is the time to catch a fast snack, equipment up appropriately, then head towards Everest Base Camp. The trek into the base camp can be accomplished in about three hoursand when trekking at the hot rising period of March to May, you will most likely encounter yaks and porters providing food and gear to expeditions here. By Everest Base Camp that you won't get opinions of Mount Everest, however you can see glorious glaciers, lakes, deserts, as well as the infamous Everest Ice Fall which escapes from the Western Cwm. It is considered the toughest and most dangerous element of this mountain. The return journey in the Base Camp to Gorak Shep takes exactly the exact same period of time. You'll have an early dinner so you are in a position to wake up early the next evening to get awe-inspiring perspectives of the Himalayan giants out of Kala Patar.
DAY 13
Trek to kalapaththar to pheriche(4200m)
You will wake early now for your trek to Kala Patar (5545m), in which you will experience stunning sunrise views from this wonderful vantage point. Do not be shocked if you get a small tear in mind when you soak up the views of Everest. Adopt that emotion and invest so long as you enjoy this to savour this additional special moment. To get there in the paychecks the ascent is very steep, so start very gradually and attempt to ascend in a steady rhythmic pace. Kala Patar is your rocky hilltop under Pumori. It is a challenging walk due to the elevation, but the perspective from the very best will surpass your wildest imagination. It is going to likely take a fantastic hour and a half to get to the summit from Gorak Shep, even though lower perspectives can provide views which are nearly as great. Pumori, Nuptse, Changtse, Ama Dablam, Taweche, Kantega and Everest — they are all here. Around three kilometres off and some 200 metres below, the region of the Everest Base Camp could be understood in a bowl in the base of the Khumbu Ice Fall. Then it is all downhill from here the descent into Gorak Shep is simple and should you arrive back at the lodge you'll have a fast drink and head to the chambers to pack your apparel luggage while breakfast is being prepared. After breakfast you'll set off to Lobuche and Thugla, in which you may stop for lunch. Then you will cross the Khumbu Khola and head down the valley under Cholatse into Pheriche, at which you may stop for the evening.
DAY 14
Trek to Namche Bazaar (3346m)
By Pheriche, cross the Khumbu Khola River and ascend a short steep road to the Peak of a little ridge for good views of Imja Valley, Ama Dablam and Kantega. Descend through the Tiny settlements at Orsho and Shomare before departure through Reduced Pangboche. Here you are going to get to the suspension bridge across the Imja Khola River, then return back to Thyangboche to pay a visit to the monastery. According to legend, Lama Sange Dorjee, who arrived from Tibet's Rongphu Monastery, based Thyangboche Monastery from the 17th century. Thyangboche was ruined by an earthquake in 1933, rebuilt and badly damaged by a fire in 1989. Building of the existing monastery was finished in 1992. Spend a little bit of time going to the monastery and the local museum. Following a welcome break and possibly a cup of tea, then you'll cross the Dudh Kosi River and then ascend into Trashinga. From here the road contours high above the valley through Shanasa and to Namche Bazaar, where you are going to spend the evening.
DAY 15
Trek to Phakding (2652m)
Take some time to appreciate your final chance to see the shops in Namche Bazaar, before descending steeply to the massive suspension bridge over the Dudh Kosi River. You will follow the path through Jorsale and straight back to Monjo, in which you are going to stop for supper. In the day it is just a brief stroll through Benkar through blue pine and rhododendron woods, with fantastic views of Kusum Kangaruback into the lodge in Phakding.
DAY 16
Trek to Lukla (2800m)
You have completed it, your very last day of hiking! It is only a brief walk from the valley prior to making the last climb up into the airstrip at Lukla, where you are going to say farewell to your own Sherpa crew. When you are back in Lukla, observe with a hot shower, a sleeping, or with a couple of drinks with your own group. You got it you defeated the Himalayas!
DAY 17
Fly Back Kathmandu
Require the brief trip from Lukla to Kathmandu this morning (approximately 45 minutes). Come back to your lodging and enjoy some spare time throughout the day for additional sightseeing or shopping. Situated in the south of town, Patan is also worth a visit with its Durbar Square filled with historical structures and statues of previous kings. This day it is time to celebrate with a tongba (hot millet beer) and a plate of ziva (pastry fingers full of cheese), as you relax your tired legs along with your travelling companions along with newfound friends.
Includes/Excludes
What's included?
Airport picks up and drops off by the private vehicle.
Three-time Meal During trekking(Breakfast-Lunch-Dinner)
All ground transportation on a comfortable private vehicle as per the itinerary
Flight From Kathmandu to Lukla And Lukla to Kathmandu
Guided city tour in Kathmandu by private vehicle
An experienced, English-speaking and government-licensed trek leader and assistant trek leader (10 trekkers: 1 assistant guide) Porter service (2 trekkers: 1 porter)
Staff costs including their salary, insurance, equipment, food and accommodation Down jacket and sleeping bag (to be returned after trip completion)
All necessary paperwork and trekking permits and TIMS.
Medical kit (carried by your trek leader)
All government and local taxes
Trekking map
Trekking certificate after trek.
What's excluded?
Nepalese visa fee
Excess baggage charge(s)
Private transportation except what is mentioned in the What Is Included section
Extra night accommodation in Kathmandu and Pokhara because of early arrival, late departure, early return from mountain (due to any reason like natural disaster and your own problems) than the scheduled itinerary Lunch and evening meals in Kathmandu (and also in the case of early return from the mountain than the scheduled itinerary) International flights
Travel and rescue insurance
Trekking equipment
Personal expenses (phone calls, laundry, bar bills, battery recharge, extra porters, bottle or boiled water, shower, etc.) Tips for guide(s), porter(s) and driver(s)
Other Packages