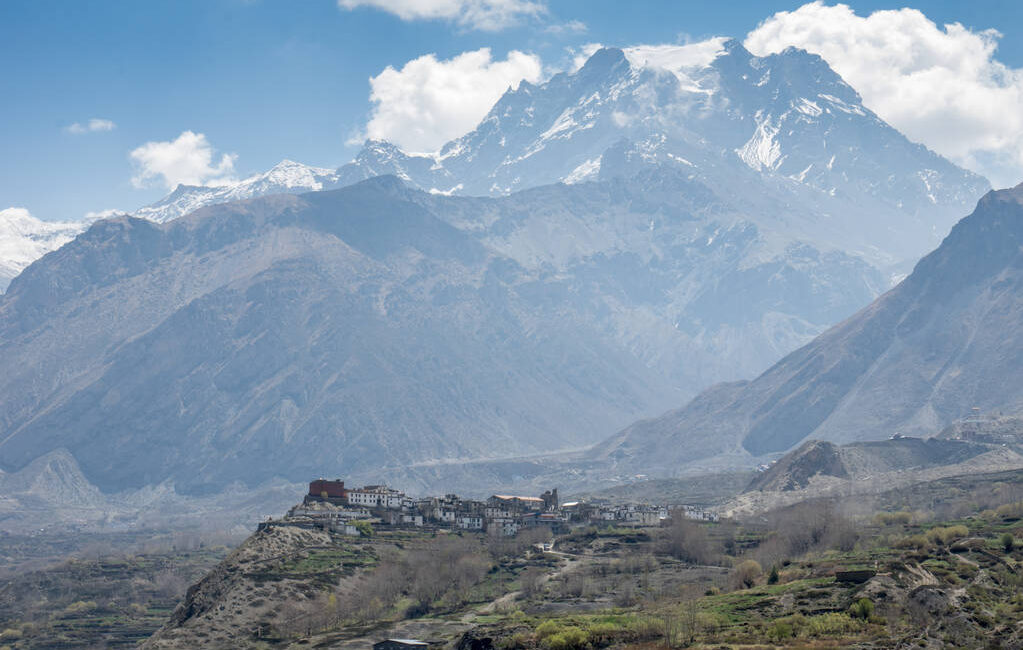 &nbsp
Overview
Jomsom Muktinath trek is loved by many visitors in today's context.  Jomsom Muktinath is situated in North direction from Pokhara. This trek is specially made for 12-15 days but it can be completed in 5 days as a short trek. The distance from Jomsom to Muktinath is 16 km. On this trek, you will be able to visit different caves, Buddhist monasteries, mountains, ancient fort's ruins, etc. You will not be taken more than 12,464 feet at the entire time of this trek.
Kali Gandaki river route is followed at ancient and in present, it is the most developed trekking trails. This trail is mostly used by Hindu and Buddhist pilgrims. Hindu is the lower part while Buddhists are the upper part. You will be able to see dazzling rhododendrons, rocky cliffs, and deserts.
You can see many breathtaking views of the mountains. You will be able to see 8 of the 20 highest peaks of the world during the time period of this trek: Dhaulagiri (26,788 feet), Annapurna I (26,538 feet), Annapurna II (26,040 feet), Nilgiri (23,097 feet), Annapurna South (23,684 feet), Annapurna III (24,787 feet), Mt. Annapurna IV (24,688 feet), Machhapuchhare ( 22,959 feet) it is known as Fishtail in English and Annapurna South (23,684 feet).
Mustang is counted as the best-preserved Tibetan Buddhist society in the world. Muktinath pilgrimage site, Kagbeni's ancient fortress town, Frontier between lower and upper mustang, and the Tibetan Buddhist monasteries that are perched on ridges and cliffs of the Jomsom are revealed during this trek. You can find Tibetian culture in Nepali flavor in these places. The most exotic village which shimmers the shine of Tibetan culture is known as Kagbeni.
Traditional traders of Mustang and Jomsom are local people and Thakalis. They have changed their house into a tea house and count themselves among the successful innkeepers in Nepal. If you stay at a tea house, you can talk with the sougi(innkeeper) who will entertain you with the food or drink of your choice. Sougi will also share a different incident that might be knowledgeable for you of that place.
In the Annapurna area, Jomsom Muktinath trekking is taken as the most prominent trekking trail. The most pleasing experience is that you can dip your body into the hot spring at Tatopani. On your trek, you will also walk on trails along the Kali Gandaki gorge which is known as the deepest gorge on earth.
Thakali people are mostly found in these places. Jomsom is the headquarters of the Mustang district that has made it more popular and commercial. When you will visit Kagbeni which is one of the popular Himalayan places in Nepal then you will understand the culture and customs of this high land.
Itinerary
DAY 01
Arrival in Kathmandu
On this day we arrived in Kathmandu and went to our hotel and get ready for the trek. We visited the Kathmandu valley and many temples.
DAY 02
Fly to Pokhara (823m) and trek to Ulleri (2000m) 5 hours
We woke up early and took fli8ght to Pokhara. Then we started our trek to Ulleri and stayed at local hotels. We saw many mountains and hills from Ulleri. It takes 5 hours for us to reach Ulleri from Pokhara.
DAY 03
Trek from Ulleri to Ghorepani (2750m) 7 hours
Early in the morning after having breakfast we head towards Ghorepani from Ulleri. It took nearly & hours for us to reach Ghorepani. On the way, we saw many snowcapped mountains and we got a chance to see the sunset from Poonhill.
DAY 04
Trek from Ghorepani to Tatopani (1190m) 6 hours
On this very day, we trek from Ghorepani to Tatopani. We walk around 6 hours to reach Tatopani from Ghorepani We saw many villages and flora and fauna on the way and the most amazing was the eye-catching view of the snowy mountains.
DAY 05
Trek from Tatopani to Ghasa (2110) 6 hours
We start our trek from Tatopani to Ghasa. We walked around 6 hours and during this time we saw many Hillarious natural resources scenery.
DAY 06
Trek from Ghasa to Marpha (2680m) 5 hours
Today morning we are moving towards Marpha from Ghasa. We can see people from different ethnics group. We can see their culture in close view. We can see many mountains too.
DAY 07
Trek from Marpha to Kagbeni (2810m) 5 hours
We get up early in the morning and start our trek from Marpha to Kagbeni. It took us around 5 hours to reach there.
DAY 08
Trek from Kagbeni to Muktinath (3710m) 6 hours
Today is the day 8 of our trek and we are moving forward towards Muktinath from Kagbeni. We walked around 6 hours to reach Muktinath where the holy temple Muktinath lies.
DAY 09
Trek from Muktinath to Jomsom (2710m) 6 hours
Today we woke up early and start trek from Muktinath. We visit holy temple Muktinath and head towards Jomsom. It took us nearly 6 hours to reach Jomsom.
DAY 10
Fly from Jomsom to Pokhara
Today we woke up early and head towards Jomsom airport. We flew from Jomsom to Pokhara.
DAY 11
Drive from Pokhara to Kathmandu
This is the day to return to our hotel at Kathmandu. So drive from Pokhara to kathmandu.we visited different cultural and religious sites in Kathmandu valley.
DAY 12
Final Departure
Today We departure from Kathmandu. We had an amazing experience throughout this trek.
Includes/Excludes
What's included?
All the airport and hotel transfer by private jeep/car.
2 nights hotel accommodation in Kathmandu city inclusive bed and breakfast.
2 nights hotel accommodation in Pokhara city inclusive bed and breakfast.
Kathmandu-Pokhara-Kathmandu transportation by tourist bus.
All the essential trekking permits for the trek.
An experienced English speaking trekking guide for the trek.
Supporting porters to carry your luggage. (1 porter for 2 people)
Pokhara to Jomsom airfare and airport taxes.
A comprehensives medical kit box.
Farewell dinner in a typical Nepali restaurant after trip completion.
What's excluded?
Meals and Accommodation in Kathmandu and Pokhara
Deserts (cakes, bakes and pies)
Additional size of Pots Hot Drinks
Bottled drinks
Boiled water
Electronic device re-charge
Hot shower
On the trekking Wi- Fi
Personal expenses any type
Travel insurance and evacuation insurance
Tipping for Guide and Porter
Group Discount
No. of PaxPrice per Pax

2-5

USD 909

5-10

USD 849
Other Packages