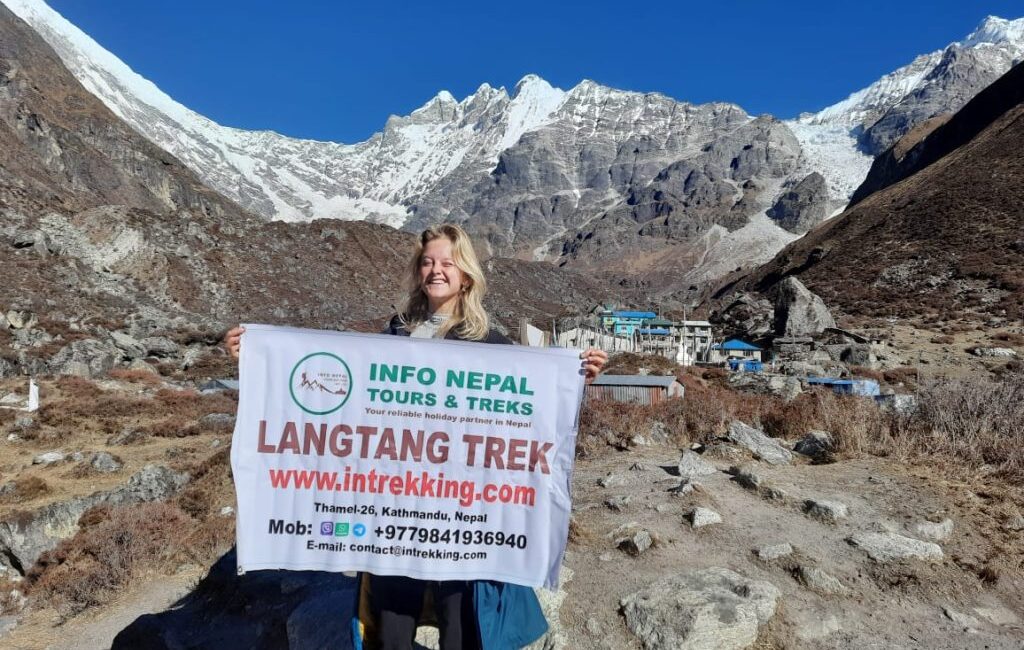 &nbsp
Overview
A short Langtang Gosaikunda Trek with Gosaikunda Lake is an amazing journey inside the Langtang National Park that lies northwest of Kathmandu. Langtang Region is connected by Tibet in the north. This region is Known for its beautiful Natural sceneries, authentic local culture, and diversified flora.
Langtang National Park
Langtang Valley Trek does happen inside the Langtang National Park. Langtang National Park 25 percent land area is covered by a thick forest. The national park of Langtang was established in 1976 as Nepal's first Himalayan National Park. The National Park exceeds the elevation range of 6400m and covers an area of 1700 square kilometers. The districts that are connected by Langtang National Park are Nuwakot, Sindupalchok, and Rasuwa. It includes 26 village communities in Langtang Valley.
Gosaikunda is also called Sillu by locals. It is a freshwater lake located inside the Langtang National Park, Nepal. The Gosaikunda Lake is at an elevation of 4380m.
Gosaikunda Lake does have religious significance also, Hindu people believe it is an abode of the God Shiva and Gauri. Yearly thousands of religious pilgrims visit the Gosaikunda Lake. According to Legend the pond of the Temple in Patan, Lalitpur is connected with the Gosaikunda.
Best Time to do Langtang Gosaikunda Trek
It is obvious to choose a time for a holiday and when it comes to high-altitude trekking it is more than just booking the trip. Choosing time is also very important for trekkers and hikers. If you are at the wrong time in the wrong place then it might not be an amazing trip for you.
So for Langtang Gosaikunda Trek best time to do this will be in high trekking season. There are two trekking seasons to do Langtang Gosaikunda Trek, Spring, and Autumn. Spring starts from March Till May whereas Autumn starts from October till December.
Langtang Gosaikunda Trek in Spring
Spring is a season of flowers. It is a very amazing feeling to trek in between the forest of flowers in Spring. Langtang Gosaikunda Trek in Spring takes you through the amazing rhododendron forest. The glooming rhododendron is found only in the time of spring. In spring the days become warmer and clearer with lower precipitation.
Langtang Gosaikunda Trek in Autumn
Autumn is the longest trekking season in Nepal. Autumn is an amazing season just after the Monsoon and before the winter. In Autumn there will be more moisture compared to other seasons in the Himalayas. The temperature is also very normal on warmer days. The weather in Autumn is crystal clear.
Langtang Trek Difficulty
Langtang Gosainkunda Trek is a moderate type of trek. It is a normal trek, not very much harder. But still trek difficulty depends upon different factors such as during the trek the way you choose your food for Lunch and Dinner, body hydration and oxygen level, acclimatization, sickness, and weather conditions. Difficulty in doing this trip also depends on the time you choose to do this trek.
It will be easier for you during the trek if you thoroughly prepare yourself before the Trek starts.
Langtang Trek Total Distance and Duration
Gosaikunda Lake lies at an altitude of 4380m. It is also one of the high-altitude lakes.
Langtang Gosaikunda trek is around an 11-day trip that covers a total distance of 117 kilometers.
The starting and ending points are Syaprubensi and Dhunche.
Langtang Gosaikunda Trekking Permits
Langtang Gosaikunda Trekking requires two permits. One is National Park Permit while another is TIMS. The cost for a Langtang National Park permit is 30 USD including VAT and the cost for TIMS is 10 USD. It is compulsory to take permits. Without Permits, you are not allowed to enter the Langtang National Park. So make sure you have the permit before you start your trip to Langtang.
Accommodation and Food During the Langtang Gosaikunda Trek
During the Langtang Gosaikunda trek, you will stay in Tea House Lodges daily. There are no star-category hotels in the mountain so Tea House Lodges are the only options to spend the night during your Trip.
Tea house lodges are fine lodges with shared bathrooms. During the evening, the dining is Heated by firewood or Cow dung.
Food is the normal local type with some Western varieties too. You can try Dalvat which is very hygienic and delicious. If you want to try Western then pizza, burgers, sandwiches, and many more are also available.
Langtang Gosaikunda Trek Package
Langtang Gosaikunda Trip comes up with unique offers and the Trekking package we provide you is more affordable. Normally Langtang Trek package ranges from 900 USD. So, choose what category of services you require and we can provide you with similar prices.
Booking Langtang Gosaikunda Package from Info Nepal
With our years of expertise in organizing Nepal's most difficult and high-altitude trekking, we are very confident in our job and our trip success rate is 99 percent.
So you can book with us without any hesitation.
Best Alternative Treks
Group Discount
No. of PaxPrice per Pax

2-5

USD 770

5-10

USD 700
Other Packages