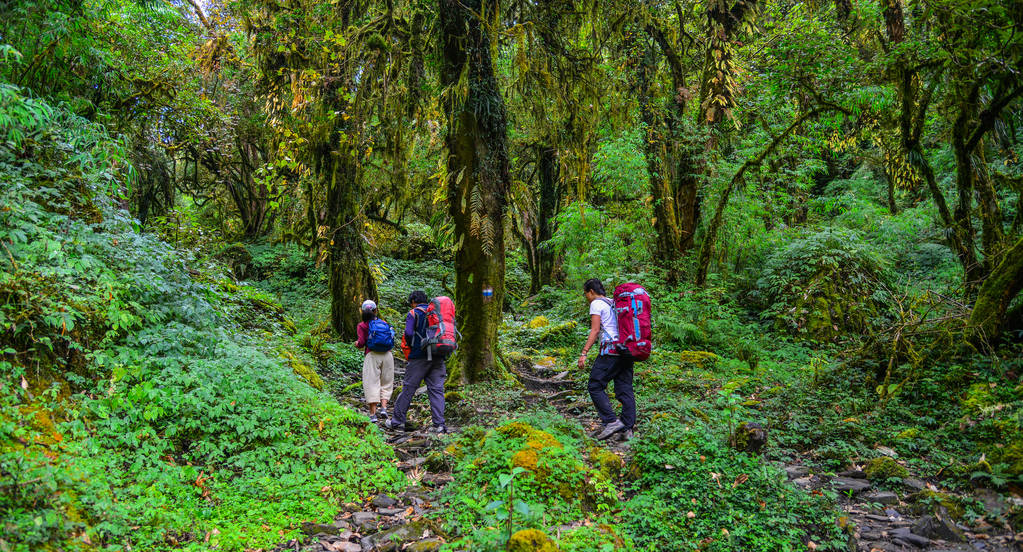 &nbsp
Overview
Khopra Ridge Trek Highlights:
"Exclusive adventure with fantastic views of high Annapurna and Dhaulagiri range of mountains
On hidden trails of Annapurna Himalaya away from main trekking trails and beyond villages
Enchanting cool alpine forest of tall alpine rhododendron, oaks, magnolia, pines and fir tree lines
Explore high hills and traditional farm villages of interesting cultures in the shade of high peaks
Stunning sunrise over an array of Himalayan peaks from high Poon Hill on route Khopra high ridge
Khopra Ridge a place in between high mountains of Dhaulagiri and Annapurna Himalaya range"'
Khopra Ridge trek is one of the exciting treks of Annapurna. It is not so much well known but throughout this trek, we can experience various eye-catching scenery of Dhaulagiri (8,167m), Nilgiri (7,061m), Bhara Shikhar (7,647m), Annapurna I (8091m), Machhapuchhre (6,997m), etc. Khopra Ridge is about 3660m high from the sea level. 
From this Khopra Ridge, you can see the panorama view of the snowy mountains. By walking one day you can see the scenery of the snowy mountains and lakes so this trek is considered as the best way to experience the beauty of nature. This trek is also known as the khayer lake trek. This trek is a beautiful way to see the mixed culture and beautiful mountains.
Many tourists visit this place to see Khayer lake which is the main attraction of this trek. In this trek, you will be able to see the red forest due to the rhododendron flower. This flower makes the forest much better than usual. 
In this trek, you will see this various village with different cultures. People of these villages have various cultures. You can see mostly Gurung community people. 
This trek is known as the alternative trek trial of the famous Ghorepani Poon Hill trek. Many tourists are loving this trek because throughout this trek they can see the beautiful view of the amazing snowy mountain i,e. Dhaulagiri, Annapurna Ranges and mainly the Mt. Annapurna south.
This trek can be completed in 10 days. Also, you can complete this trek in 5-8 days in short. This trek is not considered as a tough trek. This trek gives you a pleasant view of the various mountains of the Annapurna Ranges. This trek also provides you an eye-catching view of the snowy mountains. And you can experience the scenery of various natural resources. 
 In the Annapurna area, this trek route lies at the center and through which we can see the scenery of Annapurna, Dhaulagiri and Nilgiri Ranges. In this trek, you will pass different lush forests and the traditional villages.  In this trek, you will see the various mountains and the stunning view of sunrise from the poon hill (3210m). From poon hill, you can see the sunrise and that makes the snowy mountain of golden color. This view is out of imagination and can be experienced in this trek.  
You can see the eye-catching view of Mt. Machhapuchhre and Mt. Hiunchuli from the village named Ghandruk. After moving down from the south of  Annapurna towards the deepest gorge of the world, this trek allows you at the mindblowing balcony to see the Himalayas. Beautiful forests lakes and the culture and tradition of the people of this area are the major attraction for the tourists and of course the mountains.
Those snow-capped peaks are very stunning which can be seen in this trek. Then we moved forward through the forests until we will reach Khopra Danda, an amazing mountain. From Khobra Hill you will be able to enjoy the views of the Annapurna massif, sacred Khayer Lake, that allows you see Khun khane festival (Yak blood-drinking) which is amazing.
About Khopra Ridge:
Khopra Ridge Trekking leads you in between world 7th highest Mt. Dhaulagiri with world 10th high Mt. Annapurna and range of peaks, where you will be overwhelmed by stunning views of surrounding landscapes of rolling green hills and snow capped mountain range.
A pleasant walk within hidden corners of Annapurna Himalaya seldom trekked by few visitors where you can enjoy complete tranquil wilderness in the harmony of tall peaks and lovely serene woodland of rhododendron, oaks, magnolia, pines and fir tree lines.
Khopra Ridge trekking due to its remote location makes this adventure more special, where our walk starts from beautiful city at Pokhara an amazing place.
Pokhara one of the leading touristic spot of Nepal and whole Himalaya range due to its impressive scenery of Annapurna and Manaslu mountain range with rolling hills that surrounds the valley that reflects on its calm Phewa and Begnas lakes.
From Pokhara where route leads to climb over green hills covered within lovely forest and walking past several hill villages to reach at Ghorepani, a place with awesome view of Dhaulagiri and Annapurna peaks situated in the midst of rhododendron dense trees, where morning hike takes you on top Poon Hill for alluring panorama of mountain range with stunning sunrise views.
Enjoying time at Ghorepani and Poon Hill located at the height above 3,210 m a famous view point hill of Western Himalaya, from here where our route change on leaving the main busy trekking trails heading towards absolute wilderness.
Walk leads to a climb from the last farm villages of Chitre and Sauta as climb leads higher hills within nice cool forest as adventure continues where tree lines and lush vegetation disappears for alpine shrub and bushes on reaching our main highlight destination at Khopra Ridge.
Marvel fascinating panorama of Mid and Far Western mountain range in the comfort of nice simple mountain lodge, here with time for to enjoy the views and as well for exciting walks to Khair Lake enclosed within high peaks of Annapurna where the glacier feeds the holy lake of Khair, a sacred spot where once a year religious events held hundred of Hindu pilgrims makes their way here for holy dip and prayer to Lord Shiva and mountain spirits.
Return journey heading back to Pokhara taking an alternative route within deep woodland and then reaching into nice farm village at Ghandruk, populated by Gurung people the main hill tribe of Annapurna Himalaya, slowly our adventure comes to an end with short drive to Pokhara.
Pokhara a place with charming views where our magnificent adventure concludes with outmost time scenic times and experience on Khopra Ridge Trekking.
Best Seasons for Khopra Ridge Trekking:
From March to May and September to November months of the year, where March to May longer days with much sun-light hours till late afternoon with clear days for excellent views of snow-capped peaks and pleasant walks, can get cloudy with light rains and can snow on higher elevation sometimes.
March to May where hills are alive with seasonal wild-flower in bloom especially rhododendron of various species from tall trees to bush, September to November another best time for clear views of peaks and walks but shorter days and sunlight hours due to autumn or fall season.
Much colder nights and morning including around shades can snow sometimes around higher hills with more freezing temperatures.
Itinerary
DAY 01
Kathmandu to Pokhara (Drive)830 m 6 - 7 hr
When we woke up we have our breakfast. Then we started our journey to Pokhara by bus. It nearly 6-7 hours for us to reach Pokhara. After we reached we did boating and we saw a stunning view of Machhapuchhare Himal which is called fishtail in English. And in the evening we walked around the lakeside. That feeling was awesome and memorable.
DAY 02
Pokhara to Naya Pool (Drive) to Tadapani1940 m 4 - 5 hr
We woke early in the morning and had our breakfast then we head towards Nayapul by bus. During this trek, we saw various flora and fauna. At Naya Pool, we had our lunch and take some rest. After 4-5 hours we reached Tadapani.
DAY 03
Tadapani to Bayeli Kharka3420 m5 - 6 hr
On this day we start our trek from Tadapani to Bayeli Kharka. On the way, we saw many villages and natural resources. People were very helpful and loving. They were so happy to see new visitors. It took 4-5 hours for us to reach Bayeli Kharka.
DAY 04
Bayeli Kharka to Upper Chistibung2975 m4 - 5 hr
We woke up early in the morning and after having breakfast we head towards Upper Chistibung from Bayeli Kharka. This took nearly 4-5 hours for us to reach there. We saw many Himalayan ranges and other natural resources from there.
DAY 05
Upper Chistibung to Khopra Ridge3660 m3 - 4 hr
On this day we were so excited because that was the day to reach Khopra Ridge. We had our breakfast and start our 3-4 hour trek from Upper Chistibung to Khopra Ridge.
DAY 06
Day trip to Khaire Lake 450 m10 - 11 hr
On this day we had our day trip to Khaire lake. We saw a stunning view of the Khaire lake. The view seen from that lake is awesome. We walk around 10-11 hrs on that day.
DAY 07
Khopra Ridge to Swata village2200 m5 - 6 hr
Early morning we had our breakfast and move towards Swata Village from Khopra Ridge. It took 5-6 hrs for us to reach there. That village and the villagers were too good. Their hospitality behavior and culture had attracted us so much.
DAY 08
Swata village to Ulleri 2050 m 5 - 6 hr
On day 8 morning we woke up early and had our breakfast. We head towards Ulleri from Swata village. On the way, we saw various eyecatching Himalayas of Annapurna ranges. The view of the snowcapped mountains was hilarious.
DAY 09
Ulleri to Naya Pool to Pokhara (Drive)830 m7 - 8 hr
On the very morning, we returned to the Naya pool from Ulleri. During this time we saw many mountains that were missed by us while climbing. we saw awsome villages and the forests. Then we drive to Pokhara from the Naya pool.
DAY 10
Pokhara to Kathmandu (Drive)1380 m 6 - 7 hr
This is the day to return Kathmandu from Pokhara so we woke up early in the morning and start our journey. It took 6-7 hours for us to reach Kathmandu. During this time period, we did sightseeing on our bus. This trek gifted us many experiences.
Includes/Excludes
What's included?
3-star Accommodation in Kathmandu and Pokhara on Twin sharing with breakfast as days mention in Itineraries.
Full board meals with best teahouse accommodation as Khopra Trekking Itinerary.
Tourist couch from Kathmandu- Pokhara- Kathmandu
Annapurna Conservation Area Project permit and TIMS Card.
Certified English Speaking Trekking guide and supporting staffs.
Insurance for all trekking staffs, with basic equipment.
All ground Transfer from and to airports.
Private vehicles to and from the start and end point of Khopra Trekking.
First aid medical kit for group and T-shirts and trekking Map for each member.
What's excluded?
Nepal visa fee, payable at the airport on arrival.
Lunch and dinner in the cities (while not in trekking region).
Personal trekking and adventure gear, clothing and accessories.
Extra services as laundry, battery charge, and communication expenses.
Personal expenses like bar bill, snacks, water, chocolate,
Expenses incurred due to emergency evacuation or natural disasters, or for personal reasons.
Entrance fees during the city sightseeing and any adventure activities in Pokhara.
Tips and any gratitude for trekking staffs and tour guide.
Group Discount
No. of PaxPrice per Pax

2-5

USD 600

5-10

USD 550
Other Packages