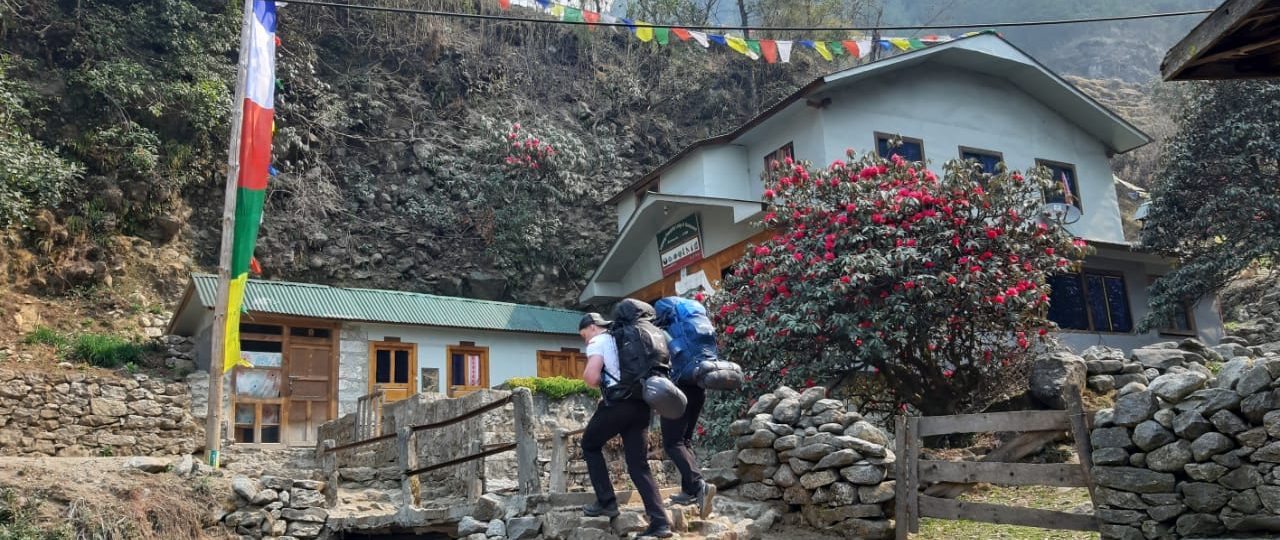 1. Champadevi Hike
Highlights:
– Stupas and shrines
– Monastery
– Pine forests
– Langtang and Annapurna range views
Trip Facts:
Starting point: Kathmandu
Ending point: Pharping
Distance: 20 kilometres
Duration: Minimum 4.5 hours
Altitude: 2249 m/7380 ft
Champadevi hiking is the most popular hiking destination in recent days in Nepal. This trek is the most beautiful and adventurous hiking region in Nepal. This hike will be a bit difficult and you should not miss it because it is worth it. 
You will be experiencing the steep trail most of them are made of rocks and go through hundreds of steps every time. On the higher point, there is a temple of the Champa Devi god. Most Hindu people visit this place for praying and getting blessings. 
This is not the only thing you can do here. Most of the tourists come here for camping, jungle trips, and hiking. There are massive numbers of pine trees on the trail. We strongly recommend that you take a map or a guide for this hike. 
2. Kakani Hike
Highlights:
– A trek through sub-alpine forests
– Astounding views of Kathmandu valley
– Forests full of oak, pine and rhododendron trees
– Views of Langtang Mountain Range, Shisha Pangma Range, Annapurna Range, Mt Manaslu
Trip Facts:
Starting point: Kathmandu
Ending point: Kakani
Distance: 25 kilometres
Duration: Minimum 5 hours
Altitude: 2000 m/6560 ft
Kakani hike is also one of the popular hiking destinations in Nepal. This trek is also regarded as the gorgeous trail that takes hikers through the forests covered with alpine in the small village of Kakani near Kathmandu city. This hiking route is comfortable, easy,  and grave which has a very slight incline for hiking.
If you have time and what to spend and rest there then you can get numerous picnic spots that consist of shops for a break. We recommend you try local food and cuisine while you are there. It will take you to the moment of the authenticity of Nepal.
3. Namobuddha Hike
Highlights:
– River trail
– The quaint town of Panauti
– Suspension bridge
– Buddhist Stupas and shrines
– View of Mt Everest and Langtang Mountain Range
Trip Facts
Starting point: Kathmandu
Ending point: Namobuddha
Distance: 38 kilometres
Duration: Minimum 6 hours
Altitude: 1800 m/5900 ft
Namo buddha reflects the shrine of Buddhist culture. Namobuddha hike is an interesting hike that can be done inside the Kathmandu valley of Nepal. This stupa always holds the efficiency and significance of devotees and tourists. It also conveys the storyline of Mahasatta, who is a prince fed or sacrificing himself or the Hungary cubs and tigress. This stupa even helps to radiate calm and peace among the visitors. 
You will get to those places followed by the small bank of the river from the town of Panauti. This will be the most breathtaking moment for the hundreds and thousands of visitors. You must be lucky enough to find some villagers working in a field.
4. Phulchowki Hike
Highlights:
– Outstanding views of Kathmandu valley
– Vista of Annapurna and Gaurishankar mountains, Mt Everest, Mt Manaslu
– Botanical garden
– Diverse flora and fauna, especially birds, orchids, butterflies and rhododendrons
Trip Facts:
Starting point: Kathmandu
Ending point: Godawari
Distance: 19 kilometres
Duration: Minimum 3.5 hours
Altitude: 2782 m/9130 ft
Another best hiking destination is Phulchoki hikes. The hill of Phulchowki is the highest hill in the Kathmandu valley and the best hike in Nepal. You will be experiencing astounding views from the top of the hill. The walking to this destination is precisely wonderful and chilled in summer due to the forests.

You will be witnessing the snow-capped Himalayas ranges, towering mountains, and exotic wild birds and animals, with rare flora and fauna expected here during your hiking.  When you are in the village you get some time to spare to visit inside the Botanical Garden and spy some of the colourful best eclectic plants. There are also small hotels located in Phulchowki where you can stay or camp for resting there.
5. Nagarkot Hike
Highlights:
– A taste of Newari culture at Sankhu
– Sunrise and sunset points
– Nagarkot Tower
– View from Dhaulagiri to Kanchenjunga, Mt Everest, Mt Manaslu, Ganesh Himal, Langtang
Trip Facts:
Starting point: Sankhu
Ending point: Nagarkot
Distance: 28 kilometres
Duration: Minimum 5 hours
Altitude: 2175 m/7135 ft
Nagarkot is the best hiking destination in Nepal with the beautiful essence of nature. It is located in the Bhaktapur district of Nepal. This high is so popular because of the scintillating views of massive mountain peaks at Nagarkot. 
You need to take a drive straight from Kathmandu. After some minutes of driving, you will be in Sankhu in Bhaktapur which is considered the initial point to start your trek to Nagarkot. You must feel very much free the exploration of culture, tradition and local cuisine before you leave for Nagarkot. 
There you will get another option for camping in Nagarkot if you want to experience different things. Always make sure to put an alarm for the morning because you do have not to miss a single moment of sunrise from here. If you are foody and want to try everything possible locally then we recommend you try local cuisine made in Nagarkot. 
6. Sundarijal Hike
Highlights:
Passing by lakes and waterholes

Shivapuri National Park

Chisapani settlement

Views of all major mountains

Waterfalls
Starting point: Budhanilkantha
Ending point: Sundarijal
Distance: 22 kilometres
Duration: Minimum 6 hours
Altitude: 100 m/4930 ft
This is another hiking spot which is an easier option for exploring some of the wildest trails, beautiful majestic scenery and simple inclines. This hike is a completely comfortable option witnessing some of the most awaited scenery and wild terrain. This route leads hikers throughout the Shivpuri National Park. 
If you are lucky then you can spot some wild animals as well. This route will lead to Chisapani, if you have time and want to spend more on walking then you can go up to the Chisapani settlement. You can feel some of the authentic local tribal culture over here. 
7. Amitabha Monastery Hike
Highlights:
– Stupa and murals
– Sunset and sunrise view
– A panoramic vista of Kathmandu valley
– Clay statues
Trip Facts:
Starting point: Swayambhu
Ending point: Seto Gumba
Distance: 15 kilometres
Duration: Minimum 3.5 hours
Altitude: 1500m/4920 ft
Amitabha Monastery is also a beautiful monastery located inside Kathmandu. This is also popularly known as Seto Gumba which shows the meaning of white Monastery among locals. This monastery is beautifully designed and made up of white stones which look like a  pristine facade. 
The walls are almost decked with frescoes and local murals that reflect the life of Buddhism culture and Buddha. This is the best monument which is home to the sacred statues constructed with the help of medical clay. In the evening you can see the moreover breathtaking sunset. You can see the routes are very frequent and easy for walking.
8. Chisapani Hike
Highlights:
– Chisapani village
– Shivapuri National Park trek
– Views of the sub-tropical forests
– Views of Langtang, Ganesh Himal, Jugal Himal, Gaurishankar Himal ranges
Trip Facts
Starting point: Sundarijal
Ending point: Chisapani
Distance: 13 kilometres
Duration: Minimum 3 hours
Altitude: 2215 m/7270 ft
The most fascinating hike is the Chisapani hike in Nepal. This is also a trekking route for people going to another region. This place is a local favourite because this will lead them to the region of Shivapuri National park region.
These areas are completely covered with wild or dense forests and villages residing between the trails. You will love the essence of the tiny village located under the Chisapani trail. 
This region also helps you to witness the towering snow-capped Himalayas or mountains. There is a chance of spotting wild animals and birds while hiking. 
9. Nagarjuna Hike
Highlights:
– Padmasambhava monastery
– Viewpoint
– Balaju Water Garden
– Nagarjuna's cave
– Mahasiddha cave
– Manjushree Cave
Trip Facts:
Starting point: Kathmandu
Ending point: Nagarjuna
Distance: 20 kilometres
Duration: Minimum 4 hours
Altitude: 1950 m/6400 ft
Nagarjun hills hike is also another best hiking trail inside the valley. This place has a lot of historical significance due to the location where Manjushree, who is a Chinese saint, first figured out that Kathmandu is the best place to live in. 
There may be a myth or a saying Buddhist religious god Buddha also came here to Nagarjun Cave. There is a water garden in a little southern region of Nagarjun which is also a must-visit place. 
This is the most exquisite region that offers a great range of beautiful authentic history with aesthetic beauty. The Padmasambhava monastery is also seen inside a small den where hikers can rest there. You can get to interact with the monks who have a wide variety of topics to explain. 
10. Shivapuri Hike
Highlights:
– Shivapuri National Park and conservation area
– Budhanilkantha temple
– Nagi Gompa
Trip Facts
Starting point: Kathmandu
Ending point: Shivapuri
Distance: 10 kilometres
Duration: Minimum 5 hours
Altitude: 2560 m/8400 ft
Shivapuri Hiking is also an easy hike around Kathmandu valley. This hike represents the exploration of wild birds and animals with wonderful flora and fauna. This hike can be done either by walking or driving a vehicle. This trail is full of steeper inclinations and it is eventually worth it. This hike you wait for something one in a million is the best insight into nature. 
If you are feeling uncomfortable and tired you can call up for the jeep or any vehicle to make your trip happen. There is also a temple which is regarded as the most trustworthy god in Nepal called Budeanilkantha. Budhanilkantha temple also possesses some of the wonderful power which has wish grantee abilities in a country. And nagi gumba is considered the centre of peaceful reflection. 
Conclusion
The above are the most amazing hiking regions that you can explore easily in Nepal. Every region has different perspectives and offerings to their guests. You will be more amazed if you visit to hike in each of the hiking regions of Nepal.