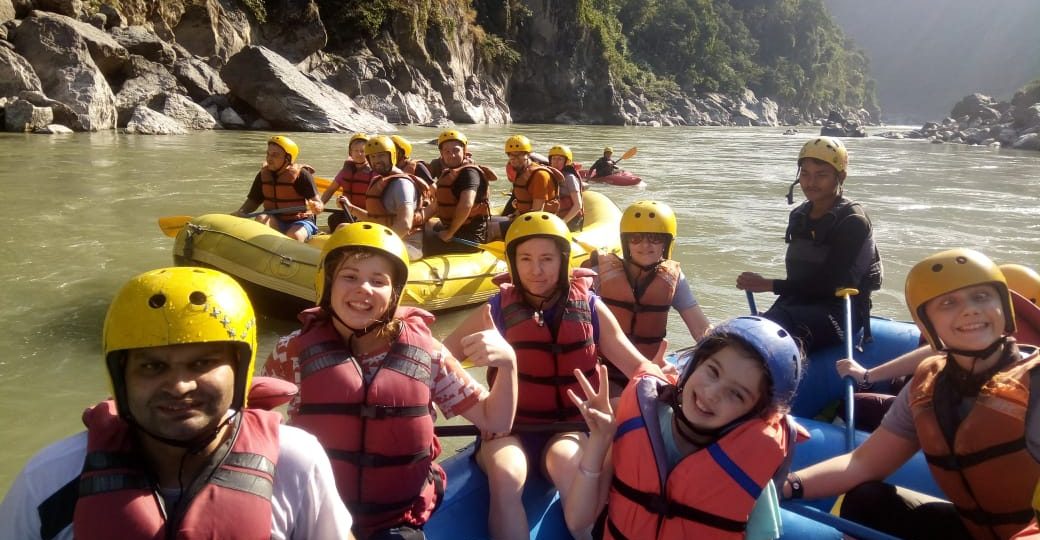 Being a Himalayan country and the downfall water rivers makes Nepal a great destination for River Rafting. There are many rivers in Nepal suitable for River rafting. The far western part of Nepal to the eastern part is connected by different river streams flowing from the great Himalayas.
Rafting in Nepal depends upon the river grades from 3-5 grading.
Different River Grades for Rafting in Nepal
Nepal has so many various rivers for rafting. Depending upon the current of Rivers and rapids Rafting in Nepal is divided into various grades. It is obvious that Rafting is one of the best adventures to explore the Rivers. With the grading system, people choose which river to do their amazing Rafting Trip.
Different Class Grades for River Rafting in Nepal are described below:
Class 3 River Grades are fast-flowing rivers with some obstacles and small to medium rapids.
Class 4 Rivers grades are longer seem flowing downwards, is very fast flowing with lots of obstacles and medium to big rapids.
Class 5 River grades are pure white water which is really difficult to paddle and needs strong paddling force. These grades of River Rafting are not recommended without any experience in river rafting in past.
River Rafting in Different Rivers of Nepal
There are different river in Nepal that offers an amazing Rafting experience. Info Nepal offers Rafting experience in the different rivers of Nepal. Let's discuss the experience that can be gained on some of the rivers in Nepal.
Trishuli River Rafting
Trishuli River is graded as the grade 3 River. So this River offers a much fun experience with so many Medium Rapids. Trishuli River is located west of Kathmandu exactly following the Prithvi highway.
Rafting in Trishuli varies from a day trip to 3 days. If you do multi-day rafting in the Trishuli River then there will be camps to stay arranged by our Rafting Company.
Seti River Rafting
Seti River is graded 2-3 and is white smooth white water located east of Pokhara. It is good to do Seti River Rafting during the Summer season as the water will be warmer. The experience to do River Rafting in Warm water is amazing. You can do this trip for 1 to 2 days.
Bhotekoshi River Rafting
This is one of the most dangerous rivers in Nepal. Bhotekoshi River is graded from 3-5. It is not recommended to do Rafting in this River if you have no previous experience of River Rafting in Lower grades or similar. Days for Rafting in Bhotekoshi River varies from a day trip to 2 days.
Sunkoshi River Rafting
Sunkoshi River Rafting is in the Eastern part of Kathmandu, Rafting itinerary of Sunkoshi River is 8-10 days. This river is one of the Longest rivers in Nepal. Sunkoshi River can give you the feeling of Class 5 type of rapids but it is not that frequent.
Kaligandaki River Rafting
Kaligandaki River Rafting happens in the western part of Nepal. This River rafting trip is a 3-day trip. Kaligandaki River Rafting is super fun with big and bouncy river rapids. Campings during this trip would be in a Remote riverside beach camp.
Karnali River Rafting
Karnali River Rafting located in the wild western part of Nepal is a class 4++ type of Rafting. Karnali River Rafting is also one of the best whitewater river rafting. The itinerary for this trip would be from 10-20 days. The rapids in Karnali will give you the feeling of a roller coaster ride.
Transportation Types to the Rafting place
There will be either private or shared bus transportation before and after the Rafting, we do manage Transportation for these trips too. Even if the transportation might be a Local Bus, one thing we can assure you of is that it will be comfortable.
Choosing River Grades for Rafting in Nepal
You can choose from 3-5 depending on your taste and hunger for adventure. River grades with 4++ are highly dangerous and need previous experience in Rafting. 2-3 class grade river rafting is fitted for adults of any age.
Kinds of Rafting Boats
There are two kinds of Rafting Boats, 1 is a kayak boat and another Rafting boat with 8 seats. Rafting Boat is with 8 seats and is well suited for group travelers. Big Rafting Boat does have one Guide.
A kayak is a single-seated boat, very suitable for solo rafting.
Costing For River Rafting in Nepal
Rafting cost in Nepal differs from the day and the river also. The minimum cost for a day trip rafting starts from 80$  to multi-day rafting is 5000 USD.  Single-day Rafting costs range from 80 to 200USD while Multi-Day rafting costs 200USD to 5000USD.
Booking Rafting from us
Rafting is an amazing opportunity for an Extreme Adventure, booking rafting from Info Nepal tours and trek means we are assuring your fixed departure and security with the value of money and time.
We guarantee everyday departures, so all you need to do is just contact us and fix the dates for your Rafting Trip.
For quick inquiries, you can contact us on Whatsapp.
Whatsapp: +9779841936940