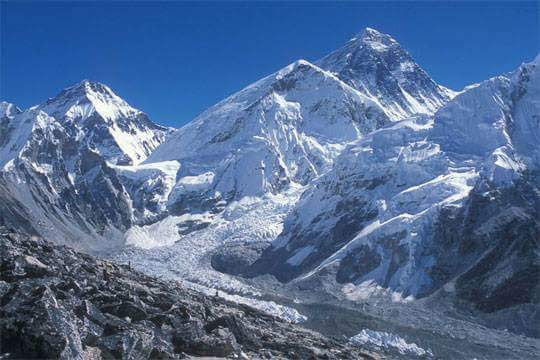 Trekking in the Base camp of the world's highest mountain is not an easy thing. You need a lot of hard work and struggle to achieve this goal. All the successful trekkers of Everest Base Camp have their own exciting stories and experiences. However, some of those stories are sad. Trekking up to the elevation of 17600 ft is a challenging job. Many trekkers also face various health issues. One of the common health issues during this trek is Altitude Sickness. 
Every trekker needs to understand the meaning, cause, symptoms, and preventive measures of altitude sickness. Some trekkers of EBC return in the middle of their journey and some lose their lives. So before you begin the trek you need to have some ideas. 
Prevention measure of Altitude Sickness
Everest Base Camp is an amazing trek on the foot of Mount Everest. The highest altitude of this trek is up to 5545m of Kalapatthar. It is the dream of many trekkers. But not everyone successfully achieves this dream. And Altitude sickness is one major reason behind it. Some tips to avoid altitude sickness in Everest Base Camp are:
Proper Acclimatization
For Everest Base Camp, you need a proper acclimatization time of at least two days. During Acclimatization time you need to hike up as high as possible and return to the lower place for the overnight stay. In Everest Base Camp you will have your acclimatization at Namche Bazaar when you hike up to Everest View Hotel and return to Namche Bazaar. Most people think acclimatization means just resting in a lodge but you need to walk the possible altitude and hike back to a lower altitude for rest. On this trek, we will have another day of acclimatization in Dingboche. During this day you will hike to Nagarshan HillTop and spend some time there. Proper acclimatization not only helps to avoid Altitude sickness but also helps the body's muscles and body to adjust to the changing level of Oxygen.
Walk slowly
While trekking at a high altitude your body needs to adjust to the oxygen level. Trekking fast could damage your muscles and bones as well. Altitude sickness and fatigue are the results of hurried walking. Therefore walk slowly and take some rest on the walk if you feel like it. 
Drink enough warm water
While walking your body needs more water as you have more sweat. Drinking enough water is the best remedy to avoid any altitude problems. You need to drink warm water consistently on the trek. You need to hydrate your body with 500ml water every half an hour while trekking. 
Avoid taking tobacco and alcohol
With the increasing altitude, the level of oxygen becomes more thinner. In the route of Everest Base Camp, the vegetation gets more less which provides more difficulties in respiratory. Therefore, trekkers need more physical fitness and more stamina to reach their destination. Consumption of any tobacco, alcohol, or cigarette can decrease the level of oxygen and water in the body. It can cause shortness of your breath. You can drink while descending as your body has already adjusted to the altitude.  
Be Mentally and Physically 
The psychological factor sometimes leads to sickness. Many people are afraid of altitude sickness more than it needs to be. Therefore you need to be mentally stable and determined to achieve the goal. You need to avoid negative thinking instead you can enjoy the amazing scenery. For physical fitness, you need to prepare from a month ago. You can do exercise, swimming, jogging, or do some walking. It helps to increase your stamina and makes your muscles stronger. 
Symptoms of altitude sickness
The symptoms of Altitude sickness are grouped into mild, moderate, and severe categories as the seriousness of the symptoms. The following are the symptoms of altitude sickness:
Mild
These types of symptoms are very common for most of the trekkers when they are trekking at high altitudes. It can be solved with 1 or 2 days of rest of your body from acclimation. After acclimation, you can climb further. 
Fatigue

Headaches

Dizziness

Shortness of breath

Lack of sleep

Loss of appetite

Nausea
Moderate 
Trekking without proper acclimatization could result in moderate symptoms of altitude sickness. Descending immediately is the only treatment after these symptoms. You can begin the trek again after resolving the symptoms 
VomitingHeadaches more like migraines

Strong nausea

Muscle weakness

Intense fatigue

Shortness of breath
Severe 
After these symptoms, you need to descend, compulsory. Avoiding these symptoms can cost your life. 
Severe shortness of breath

Unable to walk 

Hallucinations

Severe pain in your chest
Some common questions about Altitude Sickness?
1. What is Altitude Sickness?
Altitude sickness is a dangerous health problem that is caused due to high altitudes where the air is thin with no vegetation. It happens due to less oxygen in the air at high altitudes. The quick hike up to the high altitude is the reason behind this problem. 
2. At what height, does altitude sickness happen?
The mild of altitude sickness can be seen from 2500m however the symptoms can only be seen from the altitude of 3000m. 
3. What is the height of Lukla?
The altitude of Lukla is 2860m. On the first day, you take the flight from Kathmandu which has an altitude of 1400m to Lukla which is the major reason for not adjusting to altitude. 
4. Does chocolate help with altitude sickness?
Chocolate somewhat helps with altitude sickness. Take some dark chocolate with you. Chewing cocoa is considered an aid to prevent altitude sickness during mountain trips. 
5. Can altitude sickness kill you?
Surely altitude sickness can take your life. However, proper rest at a lower altitude helps to overcome this problem. 
6. How and when will you know if you are suffering from Altitude Sickness?
Tolerance level differs from person to person. Not every trekker suffers from altitude sickness. The person who is Physically weak and doesn't do any type of exercise. Such types of people have low immunity power. Generally, trekkers start to suffer after reaching 2800 meters. The trekker feels the symptoms during or after a night's sleep at those altitudes.