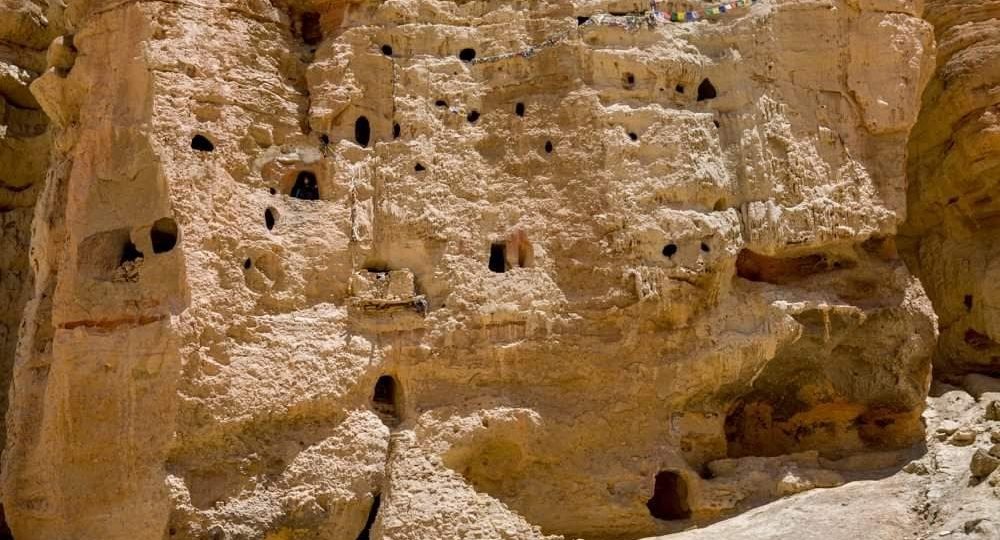 Upper Mustang lies in the Mustang district of Gandaki Pradesh. The highest altitude of the Upper Mustang is 3840m above sea level whereas the overall area is 2020km. Its capital is Lo Manthang. It lies in the rain shadow of the Dhaulagiri creating a majestic view of the colorful and impressive formation of rock. The formation of the rock is what attracts tourists to trekking. The whitewashed houses and prayer flags add a splash of color to this barren landscape. 
Many people willing to trek in Upper Mustang are eager to know about the difficulty level or challenges of the trek. The level of trek is an ignoring factor in front of the achievement and its incredible environment. However, talking about the difficulty level Upper Mustang has a moderate level. This is neither an easy nor difficult level trek. The walking hours a day and trek days determined the level of difficulty in your trek. There is no standard set of explaining the difficulty of a trek. The ability, fitness, and mindset of an individual person are different from others. Therefore one might get this trek easy and others might get it difficult.
For Upper Mustang following things determined the difficulty level of the trek:
Walking duration per day and total days of the trek

Own's fitness

Terrain

Remoteness

Climate 
Hence, you can modify the difficulty level of your trek by making some changes to the above factor. You can make your trek easier by preparing in advance like choosing the best seasons, being physically and mentally prepared, eating a balanced diet, and many more.   
Walking duration per day and total day of the trek
In this trek, you are expected to walk for 7 to 8 hours a day. Usually, trekking takes 17 or fewer days from the day of trekking to complete. Walking continuously for 7 to 8 hours for 17  days is not an easy task. You can feel like giving up due to body pain but after all those pain and challenges, you will be rewarded by the majestic views of the hidden Himalayas which are worth more for the pain. The longer duration of the trek allows you to get a safe and comfortable trek. If you are a newbie to trekking then the trek must be of longer duration. For professional trekkers and challenge-seeking trekkers, the duration of the trek is 12 to 14 days would be better so it won't harm your health. Less than 12 to 14 days will increase the degree of risk due to high altitude sickness. 
The trekkers who want to increase the difficulty level of the Upper Mustang trek might include the crossing pass like Annapurna Circuit Thorong Pass, Mesokanto La pass, or Marang La in their trek. 
Own's fitness
Physical and mental fitness is the major factor that you need to be careful about while trekking. If you aren't physically or mentally healthy, the trek might be riskier and more dangerous. A routine walk or jog for a couple of months beforehand is good preparation for the needed fitness for Upper Mustang. It helps increase one's stamina to battle shortness of breath and high altitude which helps to make the trek easier. Meditation to observe the process of breathing can be helpful to decrease mental and physical pressure and pain. If you have any pre-existing medical condition of heart, blood pressure, lung, or any, it is important to consult your doctor before the trek. If you are physically and mentally healthy, you will find this trek a lot easier than other physically and mentally unhealthy people.
Terrain
Like most of the Treks in the Himalayas, Upper Mustang is full of ups and downs. There are barely any flat sections on this trek. Upper Mustang Trek's walking trails or route is well marked so you should expect regular ascents and descents. This route was used in the old days for salt trading. Talking about the terrain it has a moderate level, though it isn't as smooth as roads in cities. If you are looking for an extra challenge, you can ask your guide to take you through off-beaten tracks, make sure you have a professional and licensed guide with you so that you are safe. Early preparation for the trek is highly recommended for less difficulty in trekking.
Remoteness
The trek to Upper Mustang is a new trek for foreigners opened only in 1992. Although the remoteness of the region there are many tea houses and homestays with clean and hygienic rooms on a shared basis. You can also find places to drink and eat in various villages along the route. The services in these places are satisfying if the altitude is considered. In this late forbidden Kingdom, you can use your mobile network with any network problem and some places also offer wifi connection. Though, you shouldn't expect any modern luxury in this place because people here respect and follow their culture and tradition without mixing any western culture in their life. They still retain their authentic lifestyle. The challenge seekers can also have opted. for a campaign instead of teahouse treks.
Climate
Climate plays an important role in determining the difficulty level of your trek. You can enjoy the trek to Upper Mustang in all four seasons. Summer isn't a suitable season to trek due to rain and frequent climate change that causes the trail slippery and challenging. In winter the climate will be a bit frosty with day temperature around -10 degree celsius and night temperature around -20degree celsius. Autumn and spring are however suitable for trekking in this region. The clear blue sky and beautiful natural and amazing landscape can be enjoyed in these seasons. Similarly,  if you are trekking in the spring season don't miss the biggest and most colorful festival of Mustang, which is the Tiji festival.
Tips
Take 1 to 2 days of slow walking and rest for acclimatization,

Take proper rest and water if you are feeling any symptoms of altitude sickness,

A strong wind   from the north dominates the  tails of Upper Mustang so, take windproof gear with you,

Pre Booking of accommodation needs to be done in peak season,

Packing

of clothing and other gear needs to be done properly,

Trek with an experienced, professional, and licensed trek guide.
Conclusion
From the above paragraphs, we can conclude that the difficulty level of the Upper Mustang trek is determined by various factors. The proper preparation, duration of trek, chosen season, and your body fitness are some major factors that you need to be careful of for the easy trek with lesser difficulties. Anyone willing to trek in Upper Mustang can trek here with minimum difficulty. This trekking is a lifetime experience, the authentic culture of the people, stunning landscape, and warm welcome is what is worth more than the level of difficulty.