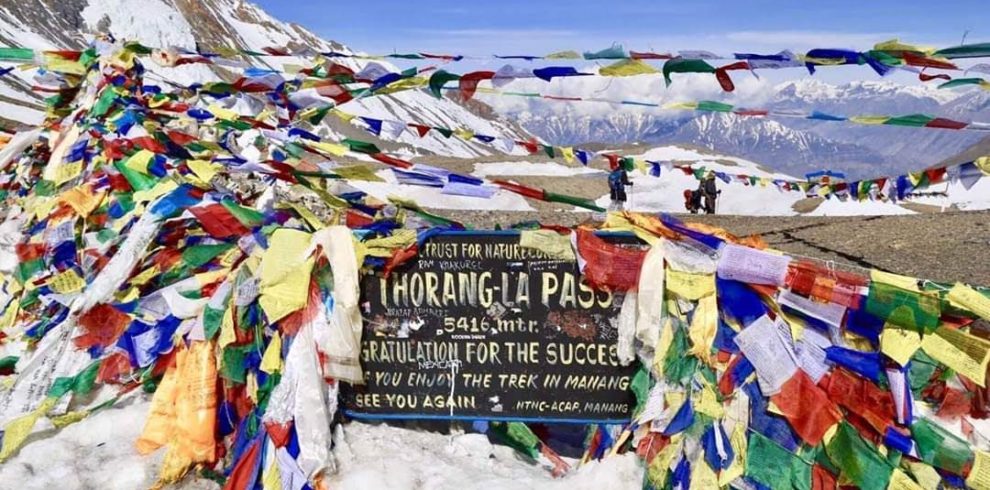 &nbsp
Overview
Thorang La Pass which is at Annapurna Circuit Trekking is one of the famous trekking tours in Nepal. As u climb upward from subtropical forest to the dry and high region you will be passing through the uncountable biosphere. These high and dry regions assemble the Tibetan plateau.     
This Pass is a very exciting trekking trail. Its altitude is 5416 m. it is also known as the climax point of the Annapurna Circuit. It is also known as one of the hardest treks in the Annapurna circuit. Only half of the oxygen is available at that altitude. You will feel like you just ran a marathon while taking every step in this trek. 
During this trek, you can see various Buddhist monasteries, Chame, Pisang, and Manang. You will see the yogi Milarepa monasteries, a meditation cave in Manang Braga village. During this, you will see many natural habitats and animals. You can see the road of that region which has made the trek easier. 
You can see many tea houses, a restaurant in this area. This is also one of the ways for earning money for the people of that region. You get good accommodation facilities in that region. The hospitality of the Gurung and Lama people will attract you. This trek is a bit hard trek in comparison to other treks. 
In this trek, you will find many ethnic groups like Gurung and lama. You can also get a chance to see their culture and tradition and their lifestyle along with their festivals. They have been staying from long years ago. In this trek, you can see many snow-capped mountains and the eye-catching natural resources like river forest with various flora and fauna. 
This trek is taken as hard but it is not impossible trek. This trek is far from being impossible. If you are prepared and can give enough time you can do this trek. You need to give enough time for this trek to get used to that climate and altitude. Many people of different ages have trekked there and all of them are fine. 
You can find a large variety of different ethnic groups and people with cultural diversity. They all are living therewith peace and harmony. This trek helps you to visit the world's deepest gorge which is kali Gandaki and also helps in viewing the world's highest pass Thorang La pass. 
You can see different mountains like Annapurna (I, II, III, IV,), Dhaulagiri, Manaslu, and many other mountains of height 6000-8000 from near during this trek. From few years the trek has been started from Dharapani in the Marshyang river valley and ends in the Kali Gandaki valley.
Many tourists love this trail and this trekking trail is being famous day by day. you would love this trekking trail due to the hospitality given by the Gurung and Lama people of this region. The views seen from this trekking and the natural resources have encouraged people to travel to this place. This is one of the best places to enjoy trekking.
Itinerary
DAY 01
Arrival in Kathmandu (1,300m), transfer to hotel
Today we arrived at the hotel and we are transferred to the hotel. Our lodges were taken by the hotel staff and kept in our respective rooms. We got a warm welcome from the hotel. Then we were sent to our respective rooms. Rooms in the hotel were awesome and the service and fooding were also mind-blowing. The bed in the hotel was also very comfortable. We can see an amazing Kathmandu valley from the balcony of the hotel.
DAY 02
Kathmandu sightseeing and trek orientation
Today we woke up early in the morning and we were taken for sightseeing of the Kathmandu valley by our guide. We saw many old temples and palaces. We got a chance to visit Kathmandu durbar square also. Then we were taken for a trek orientation program where we were taught about the rules and difficulty that can occur during this trek. We were taught to face them too.
DAY 03
Drive to Syange/Jagat (1,100m)
Today morning after having breakfast we start our journey to Syange/Jagat by bus. We saw many high hills from the bus too. We had amazing sightseeing by bus too. Syange/Jagat is at the height of 1100 m above sea level.
DAY 04
Trek from Syange/Jagat to Dharapani (1,960m)
Today we woke up early in the morning and had light breakfast. Then we start moving towards Dharapani from Syange/Jagat. Dharapani is at the altitude of 1960 m above sea level. We saw many high hills and mountains on the way. The view of the snow-capped mountains was stunning. we saw many flora and fauna on the way.
DAY 05
Trek from Dharapani to Chame (2,710m)
Today we start the trek from Dharapani to Chame after a light breakfast. Chame is at the height of 2710 m above sea level. We saw many monasteries and the villages with houses made up of stone were amazing. We saw a lot of flora and fauna there. we also saw an amazing view of snowy mountains.
DAY 06
Trek from Chame to Pisang (3,300m)
Today morning we woke up early and had our breakfast. then we start moving from Chame to Pisang. Pisang is at the height of 3300 m above the sea level. The scene that is seen from Pisang was outstanding and memorable. We saw many Gurung and lama people and other ethnic groups too. We saw a lot of flora and fauna in this place. The views of hills and mountains were eye-catching.
DAY 07
Trek from Pisang to Manang (3,500m)
Early morning after having breakfast we start our trek from Pisang to Manang. Manang is at the height of 3500 m above the sea level. We saw an amazing Manang valley and the beautiful mountains that were full of snow. we also saw many high hills that were surrounding the Manang valley. The valley was stunning and the people of this place were very helpful and their hospitality behavior attracted us.
DAY 08
Manang (Day Rest)
Today had a day rest at Manang and enjoyed sightseeing. we saw many high hills and the amazing snowy mountains. the climate of Manang was amazing and the view seen from Manang was outstanding. we were hypnotized by the stunning view of hills and the Manang valley. the house3s was made up of stone and it is like heaven.
DAY 09
Trek from Manang to Yak Kharka (4,110m)
Today we woke up and start the trek from Manang to Yak Kharka after having light breakfast. This trek is taken as hard but the view seen throughout this trek makes it easy. We forget pain and difficulty after seeing the outstanding view of hills and mountains. Yak Kharka is at the height of 4110 m above sea level.
DAY 10
Trek from Yak Kharka to Thorang Phedi (4,600m)
Today morning we start moving from Yak Kharka to Thorang Phedi. we saw many Buddhist monasteries and the villages of Gurung people. We saw their way of living and found unique. we saw many holy monasteries and Gumbas. People had many believe in these monasteries and Gumbas. Thorang Phedi is at the height of 4600 m above sea level.
DAY 11
Trek from Thorang Phedi - Thorang La (5,416m) to Muktinath (3,800m)
Today is the day to reach our final destination of this trek. we were going to reach Thorang La from Thorang Phedi. Thorang La is at the altitude of 5416 m above sea level. From Thorang La we saw many high mountains that were full of snow and the view was eye-catching. Then we move towards Muktinath and visit the holy temple Muktinath temple. This temple is considered as the holy temple of many Hindus. It is at the height of 3800 m above sea level.
DAY 12
Trek from Muktinath to Jomsom (2,750m)
Today we are moving from Muktinath to Jomsom and on the way, we saw a lot of flora and fauna. The amazing part was the stunning view of mountains and hills. We saw Jomsom bazaar and the windblown at that place was hilarious. we were ar the height of 2750 m above sea level.
DAY 13
Fly to Pokhara to Kathmandu
Today is the day to fly back to Pokhara so packed our lodges and went to the airport. Then we flew from Jomsom to Pokhara. During the flight, we saw many mountains and the amazing hills and roads of Muktinath and the stunning Machhapuchhare Himal and beautiful Pokhara city. Then we visited the lakeside of Pokhara in the evening and we did boating too. The view of the Phewa lake was amazing in the evening and the Pokhara city was amazing due to lights.
DAY 14
Final departure transfer
Today is the day of the final departure and we packed our lodes and move to Tribhuvan international airport. We got a warm greeting and goodbye from our hotel. The services of the hotel and the suffering and enjoying a moment of this trek will remain with us forever.
Includes/Excludes
What's included?
Airport picks up and drops off by the private vehicle.
Three-time Meal During trekking(Breakfast-Lunch-Dinner)
All ground transportation on a comfortable private vehicle as per the itinerary
Kathmandu to Pokhara by bus/private vehicle
Guided city tour in Kathmandu by private vehicle
An experienced, English-speaking and government-licensed trek leader and assistant trek leader (10 trekkers: 1 assistant guide) Porter service (2 trekkers: 1 porter)
Staff costs including their salary, insurance, equipment, food and accommodation Down jacket and sleeping bag (to be returned after trip completion)
All necessary paperwork and trekking permits and TIMS.
Medical kit (carried by your trek leader)
All government and local taxes
Trekking map
Trekking certificate after trek.
What's excluded?
Nepalese visa fee
Excess baggage charge(s)
Private transportation except what is mentioned in the What Is Included section
Extra night accommodation in Kathmandu and Pokhara because of early arrival, late departure, early return from mountain (due to any reason like natural disaster and your own problems) than the scheduled itinerary Lunch and evening meals in Kathmandu (and also in the case of early return from the mountain than the scheduled itinerary) International flights
Travel and rescue insurance
Trekking equipment
Personal expenses (phone calls, laundry, bar bills, battery recharge, extra porters, bottle or boiled water, shower, etc.) Tips for guide(s), porter(s) and driver(s)
Other Packages