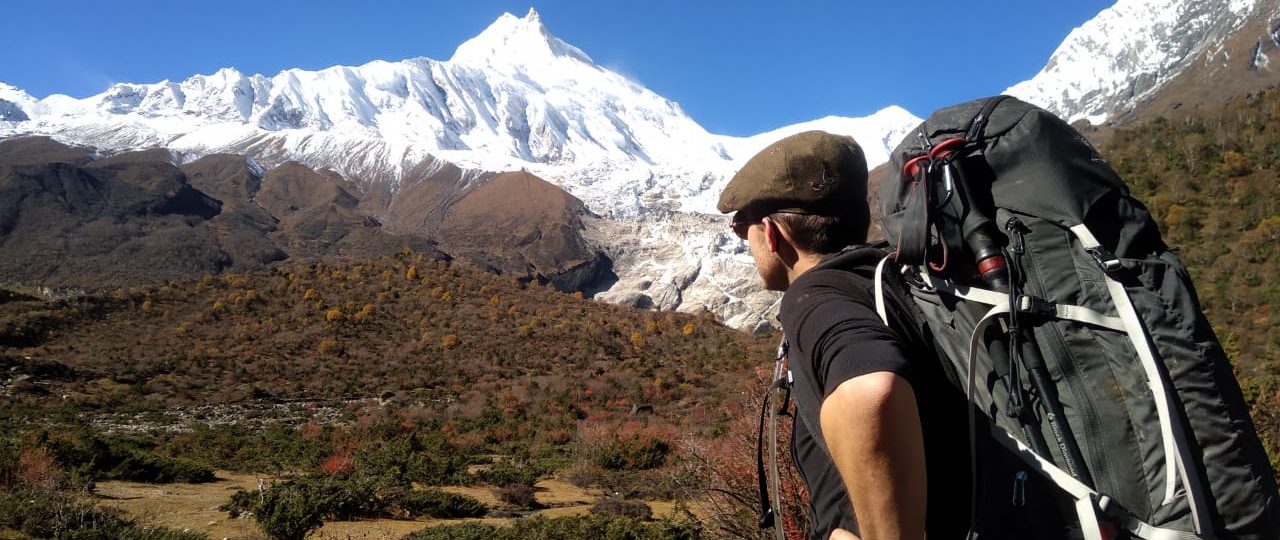 Nepal is a wonderful country for adventure seekers. The country with majestic mountains including world 8 highest peaks, own diverse culture, kind people, beautiful natural environment and many more. The country has a lot to offer to travelers looking for a different and unique experience. One can experience the real thrill of adventure in Nepal for a lifetime experience. The high peak, landscape, and beautiful nature give you the opportunity to trek in Nepal to be close to nature. Trekking routes ranging from easy to extreme with the tough barren landscape, amazing mountain view, lush green vegetation and many more. trekking in Nepal is a lifetime experience that you don't want to miss. The trekking adventures in this country are unbeatable. This makes Nepal a country for some best trekking experience throughout the year. You can enjoy the natural beauty of Nepal any month of the year. 
The country known for its Himalayas has offered various things in terms of adventure, especially in the month of November. November lies in the season of Autumn which is the best season for trekking in Nepal. This month the weather is neither hot nor cold, hence the perfect climate for smooth trekking. 
In November, the climate is moderate with a clear blue sky. So there is no possibility of rainfall or snowfall. The weather is not just the reason for trekking in November, there are many other reasons why you should trek in Nepal in November.
Climate
November is the month with a moderate climate. The weather is neither hot nor cold. Autumn is in full bloom. Trekking in continuous heavy rain, scorching heat, snowfall can make the trek difficult and dangerous. But in November you will find the best climate for trekking with a smooth and fresh environment. Uninvited rain and humidity will not be a problem this month. The spring bears beautiful flowers and trees and the autumn season preserves it for a certain period of time including November. These flowers fall into the ground  that seems like heaven. The mornings and evenings this month are a bit cooler than days. The climatic condition this month is stable, so you can trek along high and challenging passes such as Kanchenjunga high passes, Everest Base Camp, Manaslu trek and many others. November provides clear blue skies and clear visibility of mountains. This season guarantees no obstruction of inconvenience, drastic climate change and whatsoever.
Mountain views
The weather or climate plays an essential role in the clear and transparency of the Himalayas. Tourists most consider the appropriate weather condition to take most of the trek. Fog, rainfall, snowfall during unfavorable climate can provide low visibility of mountains. In November, you will get perfect weather and climate for clear views. If you are trekking for 5 days or a month, you will find the best views of the mountain, hills this month. The view of mountains during sunset and sunrise is usually the moment you don't want to miss. During this time the mountains look like the golden mountain and during the midnight of full month, the mountains look like the silver mountain. Those views are speechless which you can view in the month of November. Similarly, the forest you are trekking through will be full of colorful rhododendron mostly red that will bring you close to nature.
Cultural importance
Nepal is a country rich in culture, tradition, and history. There are 125 ethnicities in this country. Each has its own culture, tradition, and festivities. Autumn brings the initiation of the festival. Every month of the year people in Nepal celebrates different festivals that have their own value, importance, and reason. If you are planning to travel in Nepal during November, you'll be lucky to celebrate the festival of light locally known as Tihar. In this festival of fairy lights, colorful candles are used to decorate the houses. This festival is celebrated for the property, happiness, long life, healthy life of family members and yourself. People worship goddess Laxmi and play 'Deusi and Bhailo'. In this festival people also praise their dogs for their loyalty. Also, people in the Terai region celebrate Chhath Parva to worship the sun for the life it has given us.
Friendship
November is one of the peak trekking seasons in Nepal. Nepal warmly welcomes people from all over the world to share the best adventurous trek that it has got. The famous trekking destinations of Nepal like Annapurna, Everest, Manaslu, and Langtang are buzzing during the month of November. Therefore you can meet many people from various countries during your trek. You can get lifetime friendships with those people or unforgettable memories with them. Similarly, people of Nepal are also the warmest, kind and genuine people in the world. The smiley faces of those people will help you to forget your body pain caused due to trekking. Trekking will help you to make a life-lasting bond with people.
Some famous trekking destination for trekking in Nepal on November
November is the month that offers excellent weather so it is suitable for any kind of outdoor activity in Nepal. The temperature is moderate, which makes a good time for trekking in Nepal. Here is the list of top 5 best trekking trails in Nepal where you can make long term memories.
Everest base camp trek
Everest Base Camp is one of the famous treks in Nepal. It lies in the southern part of the country. November is the best time for a crystal view of the world's highest peak with an elevation of 8848m. This trek offers you the majestic Himalayas, villages, beautiful forest, suspension bridges and many more. Similarly, you can experience the ethnic life of Sherpas and their unique culture. You can also get a chance to observe various varieties of wild species of fauna and flora. 
Annapurna base camp trek
Annapurna Base Camp trek is another famous trek in Nepal. During November, you will get clear views of Annapurna, Machhapuchhre, Manaslu, Dhaulagiri and other mountains. Since November is the peak month of trekking you will find lots of trekkers in the way and accommodation is full of them. In this trek, you would get the opportunity to see the rare animals and plants. You would get to interact with local people to know their lifestyle and culture and try their famous homemade apple pie.
Langtang Circuit trek
Langtang circuit trek is the best option for those who want to travel with fewer crowds with diverse vegetation and local life. It is perfect for those who are trying to discover well preserved Tamang culture, an amazing landscape, and rare flora and fauna. This trek will take you through the rose tree and dense forests to the high snow-capped mountain peaks. You can also find the mesmerizing view of the Annapurna range.
Manaslu Circuit trek
Manaslu Circuit trek will take you to the Base of world 8th highest peak 'Mount Manaslu'. This trek will give you a majestic view of mountains and a lifetime experience. This trek will take you through beautiful lush green forest and other landscapes up to Larke pass, the highest point of this trek. This trekking route was open in the '90s and since it is providing the thrilling trekking experience to its trekkers.
Gokyo Ri Trek
Gokyo Ri trek offers a spectacular view of high white mountain peaks. It is one of the easier routes but yet more exciting than other high altitude treks. It is one of the top trekking trails in Nepal that offers the trekkers with an eye-pleasing view of mountains like Mount Everest, Lhotse, Cho-Oyu, Mount Makalu and Mount Kanchenjunga. Khumbu glacier is one of the major attractions of this trek. The crystal clear Gokyo Lake is another major attraction of this trek.