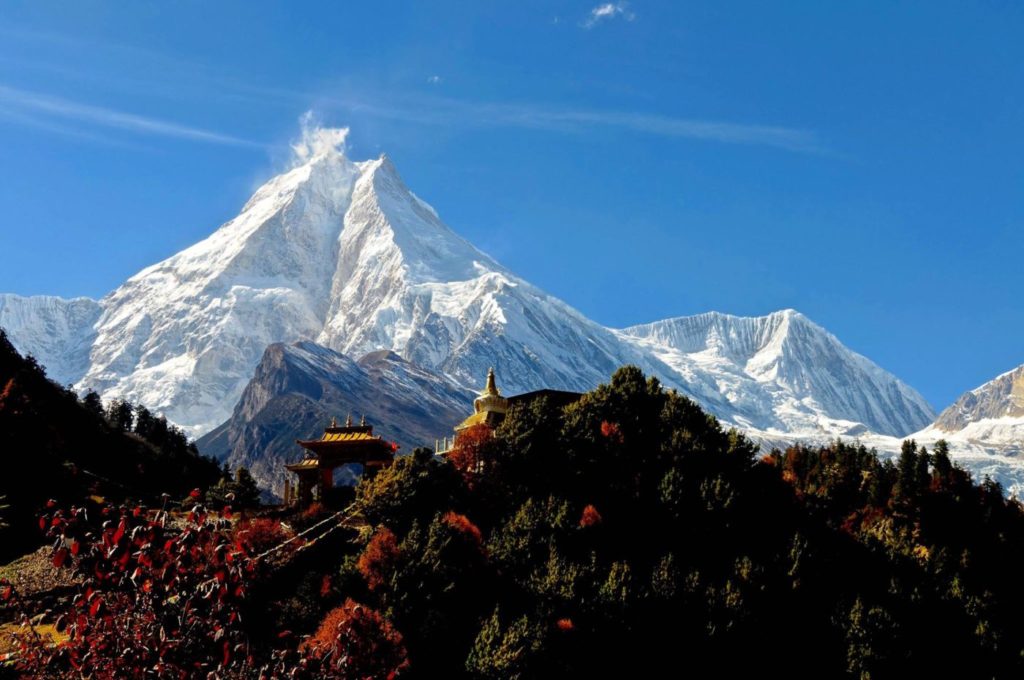 Manaslu Circuit Trek is an incredible remote trek of Nepal that offers stunning views of snow-capped mountains, authentic culture and wonderful natural views. The trek has an exciting challenging route one in the famous high passes, Larkya La pass. At the starting of Spring, the flow of tourists increases in this region. Spring is the peak season of trekking in Nepal, the temperature is moderate and the sky is clear which attracts the most trekkers. The months of Spring are March, April and May. 
Highlights of Manaslu Circuit Trek in March
Moderate temperature with crystal clear weather that provides stunning views of mountains including Mount Manaslu 

Explore the traditional lifestyle and culture of the people in the Manaslu region

Trekking along the waterfalls, hot spring, and lakes that dries in Mid-Spring

Crossing one of the most dramatic passes that is Larkya La pass

Trekking the route by viewing the rhododendrons, local flora in full bloom

Witnessing the wildlife of Manaslu Conservation Area by exciting trek

The trail of Manaslu Circuit Trek is an off beaten trail. In March, the trail isn't muddy nor slippery

The accommodation and food en-route and at destination is easily accessible
Weather and temperature
The weather and temperature is an essential factor that needs to be considered during the remote trek like Manaslu Circuit trek. This is a high altitude trek that will take you from 1400m of Kathmandu to 5,213m. In high altitude regions, the weather is cold throughout the year and frequently changes. However, March falls in the Spring as the first month which provides the suitable climate for trekking. The weather in March is neither too hot nor too cold. The temperature can go around -4 degree in higher regions so be prepared for facing this much colder trek. Manaslu Circuit Trek takes you from six climatic zones; they are tropical, subtropical, temperate, sub-alpine, alpine and arctic. So, you have the opportunity to explore the vegetation and landscape of different climatic zones. Since, weather and temperature is unpredictable, you need to be fully prepared to face any wealther in case there is some difficulty. 
Difficulties Levels
March is a favorable time to trek in Manaslu Circuit Trek. moderable temperature and pheasant weather makes the trek more easier and exciting. The weather in high altitude is unpredictable and changeable. Therefore, it is important to know about the weather and trail condition before starting the trek. Larkya La pass is one point where you can feel a bit challenged and difficult which is at the altitude of 16,752 feet. In this trek you will be trekking for 6 to 8 hours a day which has more risk of altitude sickness. Since, Manaslu Circuit Trek is a remote trek that needs some physical as well as mental fitness. Trekkers of Manaslu Circuit Trek are recommended to increase their immunity and stamina to decrease the level of difficulties. You can increase your stamina and strength through exercise, jogging, swimming, climbing stairs and many others. For your mental fitness or stability allows you to do some meditations. Proper preparation before trek and the determination plays a vital role to decrease the level of difficulty. Somewhat difficulties are necessary to make the journey more memorable and exciting. 
Food and accommodation 
Tea houses and lodges en route and destination opens in March after closing down in winter. In March the inflow of trekkers increased and the trails began to get more busier. You can easily get accommodation and food facilities there but it is a good idea to book in advance to ensure a trek without worrying for the good place to stay and eat. Twin bedroom with an attached bathroom is the common room available in Manaslu Circuit trek. So you need to share the room with another person. You can also get a single room in a single supplement method. Talking about the food, Dal-Bhat, Mo Mo, Chowmein etc are the common food you will get on this trek. Dal- Bhat is a traditional food of Nepal that every household cooks it for 2 times a day. It is the healthy food needed for your body after trekking in the lap of Himalayas.
Transportation
The trek can be started from various places like Besi Sahar, Soti Khola and Arughat. From Kathmandu you have different options like taking a local bus to experience the local life that is cheaper  and a bit bumpy or you can reserve a seat in a tourist bus a day or few hours ahead or you can take a private transportation which is more costly than others. If you hire private transportation you have the freedom to stop and enjoy the beauty of the landscape. 
Necessary permit for Manaslu Circuit trek in March.
Manaslu is a restricted area and needs some special restricted permit to trek in this region. The permits that are necessary from Manaslu Circuit trek are
Manaslu Conservation Area Project: The cost for MCAP for SAARC nationals is Nrs 1000 and for other nationals is Nrs 3000

Annapurna Conservation Area project: The cost for ACAP for SAARC nationals is also Nrs 1000 and for other nationals is Nrs 3000

Restricted Area Permit: the cost of restricted area permits differs from seasons. March is a peak season of trekking in Nepal, you have to pay USD 100 per person for the first week and an extra USD 7 per person per day after the first week. 
If you are trekking through trekking agencies, they will arrange the permits for you. And if you are trekking by yourself you can get the permit from Nepal Tourism Board Office, Kathmandu.
Packing list 
Clothings
Insulated Jacket

Down Jacket 

Windproof and waterproof jacket and pant

Thermal inner dress

Trekking pants and trousers

Trekking shirts

Breathable underwears
Head and Hand 
Scarf or cap

Warm hat

Sunhat 

Sunglasses ( recommend a UV protection)

Lightweight gloves( recommend a thermal gloves)

Windproof and waterproof gloves
Footwear 
Slippers 

Trekking boots

Hiking socks

Warm woolen socks

Gaiter
Personal items
Toothpaste and toothbrush

Soap

Sanitaizer

1 to 2 towel

Body moisturizer

Sunscreen cream

Toiletries

Wet wipes

Small mirror

Lip balm
Other gears
Sleeping bag

Trekking poles 

Water purification tablets

First Aid kits

Backpack 

Water bottle 

Prescribed medicines

Lighter or matchbox

Plastic bags

Binoculars