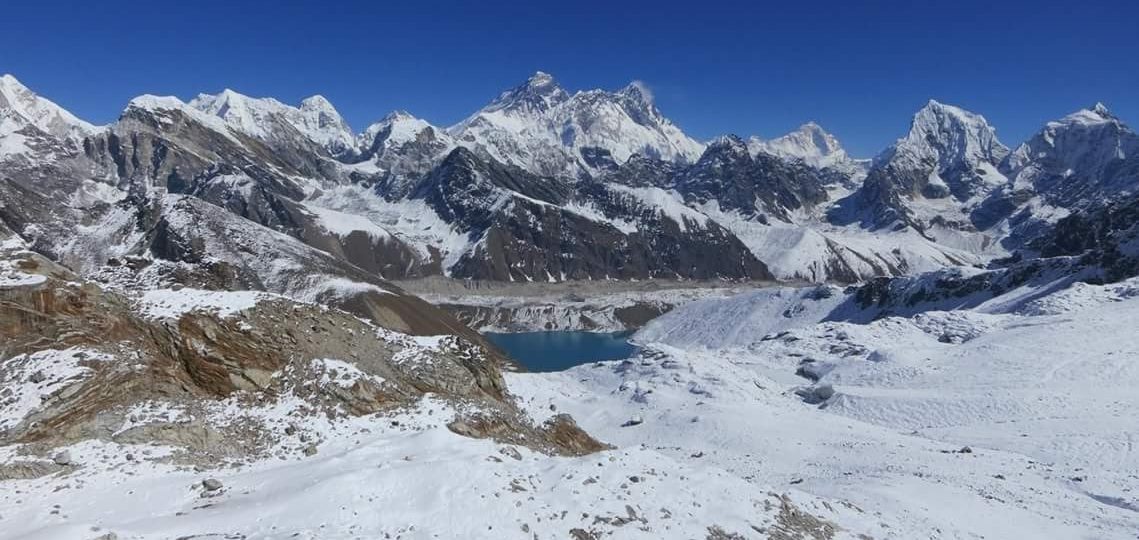 Trekking in Nepal is possible throughout the year depending on the region. Nepal has the wide variation of climate due to the vast differences in altitude. The plain land is tropical, the midland is temperate and high mountains are subarctic and arctic conditions. The purpose of your trek defines the best time for you to trek in Nepal. In general, the months mid of September to mid of December is considered as the best time to trek in the Himalayas. The climate and temperature is the major factor to determine the best time to trek. Due to moderate and warm temperature, Autumn and Spring seasons are the best seasons to trek in Nepal. In the seasons, you will have a clear sky to view the spectacular mountains and hills.
Autumn season
Autumn season is considered as the best season for trekking in Nepal. On this time, you will have the clear visibility of mesmerizing mountains, green hills and  excellent weather. Due to less clouds in the sky, you will see some of the highest mountain views in their best state. Similarly, you will have warm and moderate temperature during days in this season and a bit colder temperature at nights. During this season, there are minimum possibilities of natural disasters. Similarly, this is the best time to observe the biggest festivals of Nepal that are Dashain and Tihar. After the monsoon, this season has a dust and pollution free environment which offers the crystal clear view of Himalayan Mountain ranges. You will find many tea houses and lodges during this season so you don't have to worry about the accommodation problem. 
Pro's of trekking during Autumn
Crystal clear skies, amazing views and stable weather

Days are usually warmer however night might be a bit colder

Easy availability of accommodation and accessibility

Outstanding snow-capped mountains as this season comes after there is less dust in the atmosphere. 

Autumn is the festival season of Nepal, you will get the opportunity to observe the famous festivals like Bijaya Dashami( Dashain) and Tihar.
Con of trekking during Autumn
Need to reserve the accommodations in advance

More numbers of trekkers

Hike in price of accommodation, accessibility and amenities.

You might feel a bit cold in the morning and evening. 
Suggestion
Autumn is the best season for trekking in Nepal due to various reasons. It has suitable weather, climate, incredible views, more accommodation options and many more. Since this is the peak season for trekking in Nepal, you need to book for the trekking accommodation, accessibility, and services in advance. Try to be more interactive with locals and other trekkers for better experience. Try to select the best and unique trekking destination that is suitable for your physical fitness. 
Spring season
Spring season is another famous season for trekking in Nepal. It  begins in March and lasts until the end of April. On the trails of the trekking destination, you will be welcomed by colourful Rhododendron and other flowers. The season offers the blooming flowers, lush greenery, clear views, warm weather and sparkling mountains. While trekking in Spring you will be delighted by the singing of birds, abundance wildflowers and wildlife. Weather during Spring is usually mild at lower altitude and a bit cold at higher altitude. You will have a crystal clear view in the morning. And sometimes afternoon clouds can bring rain showers. 
Pro's of trekking in Spring 
Warm weather for trekking in higher elevation

Temperature in lower mountains range and upper hill are usually between 16 to 23 degree celsius 

Less trekkers compared to October and November which offers you more chances to experience the remote lifestyle of the Himalaya. 

Less possibilities of cancellation of flights

Pleasant and clean environment
Cons for trekking in Spring
Trekking in lower elevation can be hot and sweaty as it is getting closer to Summer season

There could be downpours and clouds in the afternoon. 

Less peace and calmness due to larger numbers of trekkers. 
Suggestion
Spring season is another best season for trekking in Himalayan region of Nepal as this season offers majestic mountains views and mild weather for trekking. You will be amazed by the beautiful forest covered with colourful rhododendrons. You don't have to carry climbing equipment or gears if you are trekking in the Spring season. However, right trekking gear and clothing is alway necessary for trekking in Nepal. You can also get the experience about the local culture and lifestyle of the Himalayas.
Winter Season
Winter in the Himalayas is freezing and extremely cold. Winter season in Nepal starts from December and lasts until March. It is the coldest time in the Himalayan when temperature falls below zero degrees. Trekking in higher altitude could be challenging as the trails can be covered with snow. Trekkers are recommended to trek below 3000metre in winter season. The temperature of Himalayan region could reach upto -18 degree celsius. If temperature doesn't bother you then this is a great time to trek in the famous trekking destination like Eversest. Trekkers are prohibited to trek in January due to extreme coldness, however you can trek in the Everest region. The skies are often clear and clean from dawn to dusk which offers a fantastic time for photographers to capture the incredible beauty of mountains. Sometimes, morning can begin foggy and cold. During this season trails are usually covered with snow and the high passes are blocked. 
Pro's for trekking in Winter season
Less crowds, provide opportunity to experience the remote life

Sky is usually clear and blue during the day

Winter is the best time for Photography of Himalayas

Great time to visit monasteries for the spiritual refreshment
Cons for trekking in Winter season
Many high passes are closed during this time due to snow coverage

Need more planning, preparation and equipment due to colder temperature 

Need to carry more trekking and climbing gears and equipments

Trekking can be difficult due to snowfall and extreme coldness
Suggestion
Winter is an off season in Nepal for trekking. During this season trekking can be very difficult due to extreme climate and snow blockade in the trails. You need to carry extra and warm clothes if you are trekking in this season. You have to carry some climbing equipment and gear. Planning and preparation is very necessary for this trek. Physical and mental training is always essential if you are trekking during Winter. Take the help of experienced trekkers while packing. Similarly, trekking with experience and professional guide and porter are suggested. There is less option for accommodation because most of the lodges and tea houses in higher altitude are closed so be prepared for the accommodation. You can also do a camping trek at a higher altitude. 
Summer season
Summer in Nepal means monsoon. The days and nights during summer in Nepal are usually cloudy and downfall. Trekking during this season is very uncomfortable due to wet, muddy and leech-infested trails. Due to wet terrain, trekking in Nepal is riskier and you could be injured. This is a higher chance of natural disasters like floods and landslides mainly in hilly regions. If you are trekking in this season don't forget to carry insect repellants. The temperatures are usually hot in summer time. The Himalayan region has the temperature of 20 to 30 degree, hilly region will be 20 to 30 degree whereas terai region has 34 to 40 degree celsius. Trekking in the Summer season is not a good season however it is the best time for botanists and researchers in higher altitudes and forests. There are some places located in a rain shadow where trekking in the summer season is also possible and those places are Manang, Dolpo and Mustang. 
Pro's for trekking in Nepal in Summer
Best time for clean and fresh air. 

You can experience the other perspective of trekking during this season

Less crowd while trekking, you get more opportunity to be close with nature with peaceful and calm environment

Stunning  view of Himalayas after a rainfall 

Great opportunity for adventure seekers and researchers
Cons for trekking in Nepal in Summer
Difficulties due to muddy and slippery trails caused from heavy rainfall

Flight might be delays or cancelled which is normal during the monsoon

The views of sunrise and sunset, snowcapped peaks etc will be seen very rarely because of cloudy environment

Mosquitoes and leeches are very common during this season so don't carry mosquito repellent cream. 
Suggestions
Summer is a monsoon season in Nepal with continuous rainfall. It's very difficult to trek in the Summer season due to slippery and muddy trails. Therefore choose your shoes carefully. Similarly, choose your clothing and gear considering the weather and temperature of the region of trek. Waterproof clothes and shoes are recommended. Monsoon invites mosquitoes and leeches along the trekking route therefore be careful and carry mosquito repellent cream. Locals use 'Sancho' or Salt to avoid leeches while trekking, you can easy find Sancho and Salt in any local shop.