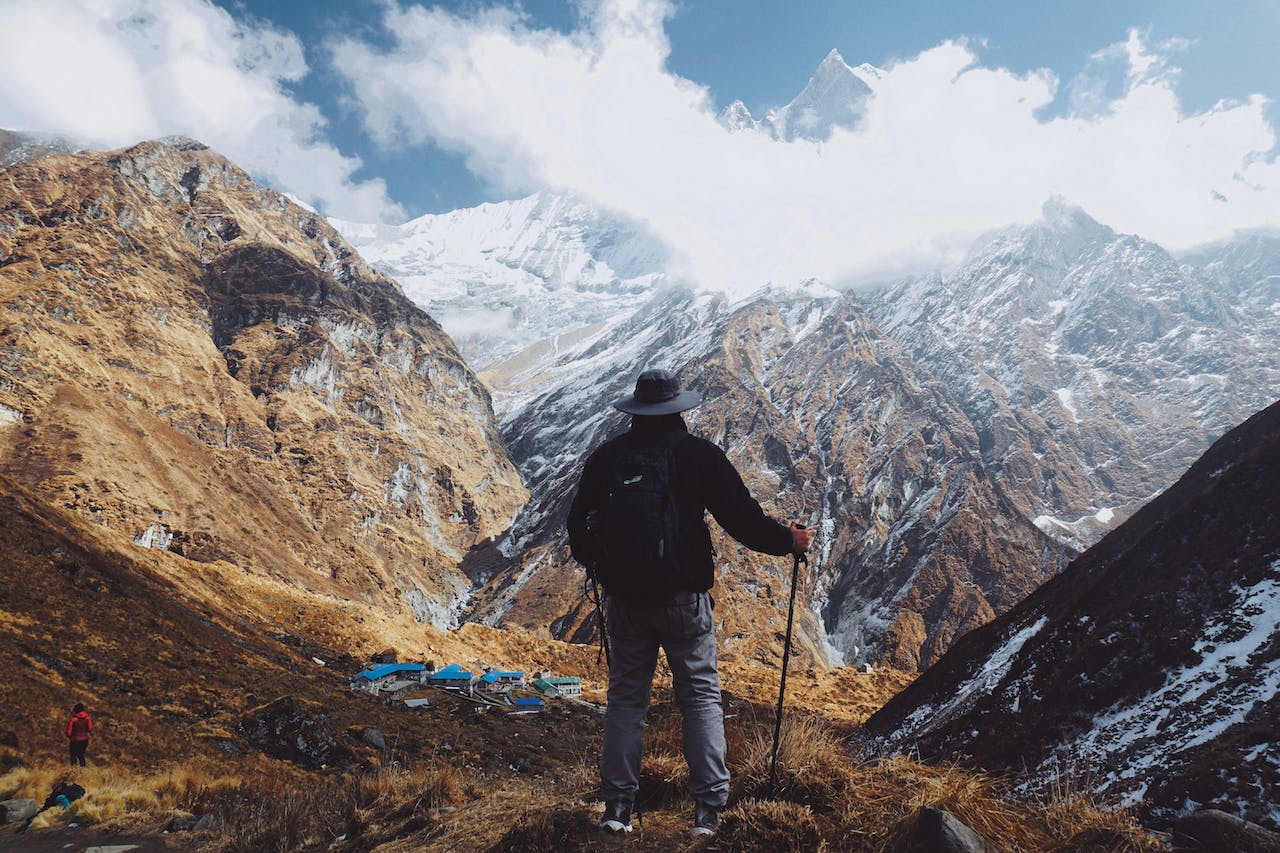 Trekking requires lots of preparation. You have to plan it carefully. Knowing about the difficulties helps you a lot to prepare for a trek. Let's learn about the difficulty of the Annapurna circuit trek in this blog.
The Annapurna circuit trek is the longest trekking route in the Annapurna region. It takes you to the highest trekking point at Thorung La Pass, with an altitude of 5550 m above sea level.
It is a very popular trek among the trekkers worldwide. It takes you to experience diverse landscapes, subtropical forests, waterfalls, and magnificent mountains. The green forests, terraced fields, rivers, and lakes lure you to trek this region.
Muktinath temple is one of the famous pilgrimages of this region. You reach this temple after passing through a desert-like terrain in Upper Mustang. The famous part of this trek is a 360-degree sunrise view from Poon Hill.
Talking about the difficulty of Annapurna Circuit Trek, it is moderate. Many factors affect the difficulty level of this trek. Knowing these difficulties makes it easy to take precautions and prepare likewise.
Duration of the trek
Annapurna Circuit Trek is the longest trek, which takes 18 days to complete. The duration of this trek may be too much for beginners. You have to walk for 5 to 6 hours daily.
It is challenging to walk for such long hours in rugged terrains. The altitude ascent also troubles you a lot. So, you have to prepare your body to endure harsh trekking. Exercise daily to build your stamina. Hike uphills frequently to get used to trekking.
Total Distance
You have to cover a total distance of 160 to 230 km in this trek. That means you have to cover the distance of 8 to 15 km daily. It is not a joke to ascend in such tough terrains for over two weeks. It takes lots of physical and mental ability to complete this trek.
The steep rocky terrains and snow-covered trails are very difficult. It will be very windy as well. This trek is more challenging during winter. You have to hire an experienced guide from an authorized travel agency to make this trek easier.
Even though the distance is long, have patience. Walk at your own pace. Cover a certain distance and then take a break. Have water frequently to stay hydrated. This will ease your body.
Type of Trekker
It depends on the individual how this trek will end up. If you are a professional trekker, you will find this trek easy. But if you are just a beginner, it may be hard for you.
It is the longest trek and will be very tiresome. You need to cover a lot of distance in just 5 to 6 hours of walking. Trekking a tough trail with ascending altitude is very challenging.
That's why you need to prepare beforehand. At least start preparing 3 months prior. You have to build your stamina and endurance. Make a habit of walking daily for long, tiring distances. Also, prepare yourself mentally.
Both mentally and physically, fitness is important to complete this journey comfortably.
Altitude Sickness
Even if you are physically fine, you may suffer from altitude sickness. As the altitude rises, the oxygen level decreases, and the atmosphere pressure gets thinner. Your body needs enough time to adapt to this kind of environment.
Acclimatize properly and stay hydrated. Be aware of your health. If you find any symptoms such as nausea, diarrhea, headache, loss of appetite, fatigue, insomnia, and breathing difficulty, it may be due to high altitude. Descend to a lower altitude quickly.
The most difficult part to cope with is Thorung La Pass at an altitude of 5550 m. altitude is the main difficulty that obstructs your journey. So, don't ignore acclimatization. Acclimatization is necessary to prevent altitude sickness. Also, avoid drinking alcohol in high altitudes.
You can consult a doctor and take anti-altitude sickness medicine. Altitude sickness is very dangerous. If not treated timely, it may lead to death.
Weather and Temperature
The weather affects the journey. It is the major factor that determines the difficulty of your trek. The weather at high altitudes is unpredictable. You have to stay prepared for the worst as it changes drastically.
Choosing the best time of the year is the best decision to avoid weather obstacles. Autumn and Spring are the best seasons for trekking. October is the best month.
The temperature is very comfortable. The trails are in the best condition suitable for trekking. It is warmer during the days. The average temperature in Autumn is 15 to 20 degrees, and in Spring, it is 20 to 25 degrees. It gets chillier during the night but bearable.
Among all seasons, winter is very cold. The temperature drops gradually, making it unbearable. The heavy snowfall blocks the passes. Your journey may be incomplete in this season. However, monsoon does not affect this route as it lies in a rainshadow area.
Choose the best season suitable for your body. Prefer the seasonal time of the year for the best experience.
Luggage
Heavy luggage wears you down. That's why you need to pack wisely. Pack all the necessary things and avoid unnecessary packing. Remember you have to spend 3 weeks in a very remote place. So, pack all the necessities as they won't be available during the trek.
Important things should be packed first. Mention all the daily necessities and trekking equipment. Overloading backpacks with necessary stuff can ruin your trek.
Conclusion
Amidst all the difficulties mentioned above, it depends on you and your planning for how your trek will end up. So, be prepared beforehand. For a comfortable trek, follow the mentioned guidelines. It saves you from lots of trouble. Have a nice journey!