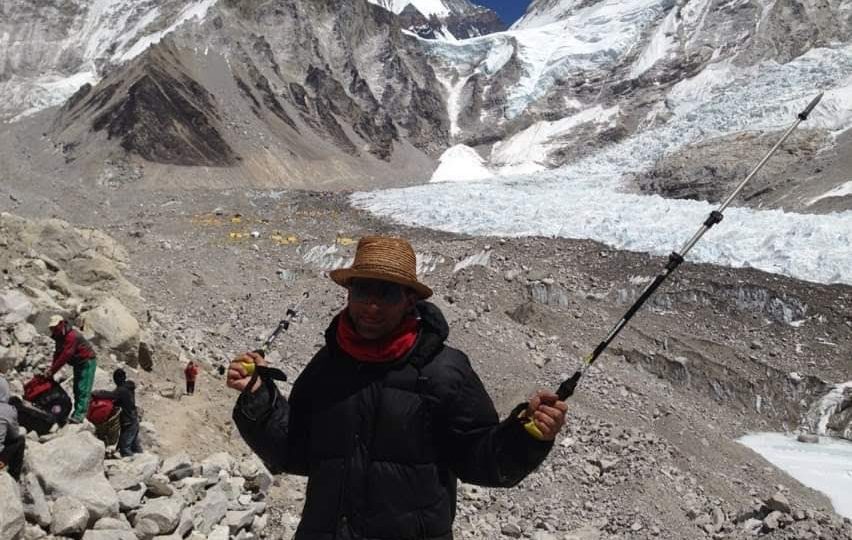 Annapurna Base Camp trek is one of the most popular trekking destinations in Nepal. It is not as difficult as other treks like Everest Base Camp and other Annapurna regions. However, trekking in the base camp of the world's 10th highest peak, Mount Annapurna is definitely not an easy trek. There are lots of twists and turns in the route of the trek. Walking over the tedious stone steps ups and downs is not easy. Through these difficulties, you will be proud after reaching the base camp. 
Annapurna Base Camp is one of the most demanding and challenging high treks. With a positive mindset, well equipment, and mild physical fitness, trekkers with any level of experience can do this trek. Unlike many other treks, you don't need any special training for this trek. Stable health and well determination is enough to reach your final destination by enjoying the trek. High altitude is comparatively more difficult than lower altitude. 
Some reason of difficulties
1. Weather and Temperature
Weather and temperature play a vital role in determining the level of difficulties for Annapurna Base Camp. Spring and Autumn are comparatively easier seasons than Monsoon and Winter. During Monsoon, there is heavy rain and landslides in the route that can be an obstruction in your trek. The weather is hotter and more humid during Monsoon. You will also find leeches during this season. However, this season offers the best greenery of the year. Similarly, during the Winter season, the trails are fully covered with snow and have freezing temperatures. Due to cold weather and temperature, most of the lodge and tea houses are closed which creates difficulties to find a better place for stay. However, there won't be snowfall in a lower altitude.
2. Altitude 
Mount Annapurna is the world's 10th highest peak with an altitude of 8091 meters. And the altitude of Annapurna Base Camp is 4130 meters in the Annapurna region of Nepal. Since this is the high altitude trek and has thin oxygen so you might feel minor difficulty in breathing. Therefore, proper acclimatization is necessary to overcome any altitude health problems. Trekking for long hours a day could cause the problem of breathing so walk slowly and enjoy the beauty of nature. 
3. Difficulties in Trail
Annapurna Base Camp might not be the most difficult trekking destination of Nepal but it is not easy as well. In your trek, you will be walking a long way on a steep route. There are many twists and turns and walking up and downhill along the trails which need sound stamina. During your trek, try to walk slowly and steady, walking too fast might cause you to be exhausted and tired. Carry some carbohydrates food with you because walking the Annapurna region's trail needs more energy. 
4. Total Distance
The total distance of Annapurna Base Camp is around 115 kilometers in which you will need to trek for about 15 to 10 kilometers a day. Since this trek is popular among the trekkers, you might find a better company of other trekkers which makes the trek more easier and memorable. The rocky terrains in the mountain of this trek make this trek more difficult. Normally you will be trekking for about 5 to 6 hours a day. 
5. Altitude Sickness
Altitude Sickness is one of the major problems of Annapurna Base Camp Trek. At high altitude, there will be thin oxygen in the air which causes difficulties in breathing which ultimately results in Altitude sickness. Altitude sickness is a common problem among trekkers of high altitude. Difficulty in breathing, nausea, headache, dizziness, and vomiting are common symptoms of altitude sickness. In case of any symptoms of altitude sickness, it is a better idea to descend to a lower altitude. Before leaving for Annapurna Base Camp, it is better to know and apply the precautions for altitude sickness. The place and days of acclimatization help to overcome this problem. 
6. Budget
Proper management of budget is one of the major factors to determine the difficulty of the trek. Longer packages cost more price and shorter packages less but less difficult and more difficult respectively. The longer packages provide more time for relaxation and acclimatization. The longer packages are more comfortable. It also helps to prevent altitude sickness. Longer days of the trek are less difficult than shorter days trek. Shorter days packages are tightly scheduled which is only suitable for professionals and well-experienced trekkers. There are fewer days for acclimatization and longer walking hours which might result in altitude sickness. It also increases mental as well as physical exhaustion. Those people who don't care about budget can also have the options of a helicopter tour of the Luxury Annapurna Base Camp package. 
7. Without porter and guide
While doing Annapurna Base Camp trek many trekkers don't hire porters or guides. Trekking the base camp of Annapurna is possible without a guide and porter but some time might be a bit riskier and difficult. Though this trek doesn't involve any technical sections, there are some steep and rugged sections that are not easy. Hiring a guide is safe and you will get more knowledge about the environment and culture of the areas whereas if you hire porters it will be easier to walk up and down the stone stairs.
Packing 
Packing can be a difficult task if you are a newbie or don't know about the grade, weather, and facilities of the region. Deciding on items for the trekking could be a challenging job. There are some essential and compulsory items that you need to carry with you. While packing your baggage you should try to list the things as little as possible. Some of the things for trekking in Annapurna Base Camp are listed below:
Clothing
Windproof and waterproof jackets

Shirts

Undergarments

Hiking socks

Pair of gloves

Hats

Scarf
Toiletries
Body lotion and sunscreen

Wet tissues

Small towel

Toilet rolls

Toothbrush and toothpaste

Nail cutter and comb

Soap and shampoo
Miscellaneous
Pen and dairy

Batteries

Torch

Sleeping bag

First Aid kits

Camera

Binocular
9. Experience
If you have any high altitude trekking experience then the Annapurna Base Camp trek won't be too difficult. For the trekker with good strength who can walk for 5 to 6 hours per day on high altitude areas, this trek is very comfortable and easily achievable. But for first-time high altitude trekkers, this trek might be a bit difficult. The trekkers with no trekking experience might feel tired and difficult to trek breathe after some altitude. Similarly, they take more time to cover average distances than the experienced trekkers. So to avoid the difficulties due to experience, you can do some walking uphills and downhills for a few hours every before a month of trekking to increase your stamina and the strengths of your body. The trail has some difficult rocky and steep ways so if you are a new trekker, you can hire porters to help you to carry your goods during your hike so that you can enjoy the beautiful moments and comfortable walk. At a higher altitude, there will be thin oxygen in the air there for proper acclimatization is recommended to the new trekkers. 
Some tips 
The above factors of difficulties can ruin your trek to the Base Camp of Mount Annapurna so there are some things you need to be careful of before and during the trek. Some of the tips for trekking to Annapurna Base Camp are given below. 
1. Physical and Mental Fitness
Trekking to the base camp of the 10th highest peak is not an easy thing. Any carelessness can ruin your whole trek as well as your life therefore it is better to prepare oneself before the trek. For a better experience of the trek, you need to be physically as well as mentally fit. You can do some regular hiking, walking, running, gyming, swimming, or another physical exercise to increase your stamina and strength. And for mental fitness, you can do some yoga and meditation. 
2. Packing 
Packing is the necessary factor to be careful of before trekking. While packing, you need to understand the weather, temperature, transportation and accommodation, and many more. Proper clothing, gear, and necessary items need to pack but you should try to minimize your package as much as possible. Don't forget any necessary legal documents. 
3. Avoid smoke and alcohol
While trekking you should not do any smoking and alcohol. Smoke and alcohol decrease your stamina and strength which could create problems during the trek. 
4. Be Hydrate 
During the first couple of days of the trek, you will feel tired and lose appetite. But it is very essential to eat and drink plenty of food and water. Dehydration can lead to altitude sickness and body weaknesses. So staying hydrated is the key to avoiding any altitude health problems and enjoying the beauty of nature. 
5. Walk slowly
You have to walk 5 to 6 hours a day on this trek. You might think you can walk fast and save some time but it isn't a good idea. You can lose your energy and feel tired too soon after walking fast and want to give up. Therefore, during the trek, you need to walk slowly and steadily. You can also take some rest if you feel tired.