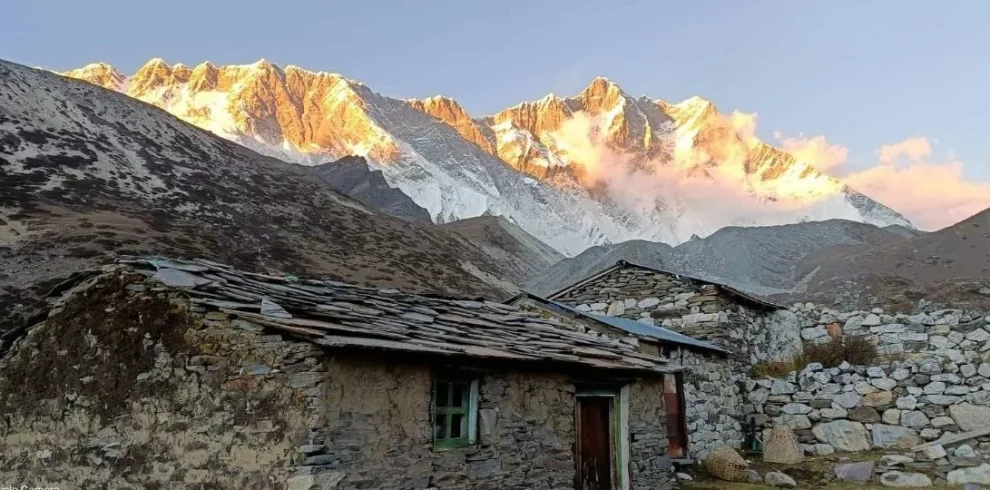 &nbsp
Overview
Are you looking for an adventure that will take you through stunning scenery and breathtaking views? Look no further than the Kanchenjunga South to North Base Camp Trek in 2024! 
This trek is a hidden gem in Nepal, offering a unique experience perfect for first-timers and seasoned trekkers alike. Located in the eastern part of Nepal, the Kanchenjunga Trek promises an unforgettable experience that will take you to the summit of the world's third-highest mountain. With stunning mountain views, vibrant cultures, and challenging terrain, this trek is a must-do for any avid explorer. 
In this article, we'll cover everything you need to know about planning and preparing for the Kanchenjunga Trek, including the best time to visit, permits, and more. 
Book your trek with us today and get ready to embark on an unforgettable journey through one of Nepal's most beautiful regions!
Highlights of Kanchenjunga South – North Trek:
Explore the untouched and unspoiled highlands, away from the crowds of more popular trekking routes.
Learn about different ethnic groups residing in the Kanchenjunga region, including the Limbu, Rai, Sherpa, and Tibetan people.
Explore the ancient monasteries and temples along the trek, including Ghunsa Monastery and Pangpema Monastery.
Explore both the North and South Base Camp of Kanchenjunga.
Stunning views of Mt. Kanchenjunga, Mt. Jannu, Mera Peak, and other peaks.
Pristine Rhododendron forest and the high alpine passes.
Visit settlements of Tibetan refugees along Kanchenjunga trekking routes.
Wildlife such as musk deer, snow leopard, and mountain yaks can be found.
Length And Terrain Of The South to North Kanchenjunga Trek
The Kanchenjunga South and then North trek are one of the most challenging treks in Nepal. It is a long and strenuous journey that requires a high level of fitness and commitment. The trek is spread across three weeks, and you will be walking with a light backpack.
At 220 km in length, the Kanchenjunga trek is no walk in the park. It requires a good level of fitness to cover such a distance in three weeks with a light backpack. The terrain can be quite unforgiving in parts, with rocky paths and long hills. In some sections, it may be necessary to use short ropes to aid in safely crossing rocky areas. Thankfully, no technical climbing skills are required for the trek.
The Kanchenjunga South to North trek connects the North and South Base Camps of Kanchenjunga via Sele Le Pass over 18 days. This challenging trek offers breathtaking views of Kanchenjunga's snow-capped peaks, as well as verdant forests, photogenic waterfalls, and impressive glaciers. You will be rewarded with breathtaking views of the majestic Himalayas as you ascend higher and higher. 
Additionally, the trek offers stunning views of glaciers, high passes, and meadows of wildflowers. The trek passes through some of the most remote and beautiful parts of the Himalayas, and you will get a chance to experience the beauty of the Kanchenjunga region.
The terrain during the trek is challenging, with steep up-and-down trails, rocky paths, and narrow ridges. Trekkers need to be prepared for altitude sickness as they reach higher elevations. It is recommended to acclimatize properly before ascending further to avoid any health issues during the trek.
Trek to Kanchenjunga South and North: Start To Finish
The Kanchenjunga trek is a challenging yet rewarding experience that can be fully enjoyed from the starting point in Kathmandu to the finish line in Taplejung. From the beginning, we'll take a 40-minute flight from Kathmandu to Biratnager, followed by a 6-7-hour jeep drive to the village of Thumbeding. From there, the journey begins.
We'll trek through rugged mountain terrain and verdant forests, passing through villages such as Yamphudin, Tortong, Cheram, Ramchaur, and Ghunsa to reach the Southern and Northern Base Camps. The journey culminates in Taplejung, from where we have a few options. We can either visit the Pathivara Temple and return to Kathmandu the next day by bus or flight, take a bus to Kathmandu the same day, or visit the temple and go to Biratnagar for an early morning flight to Kathmandu.
The Kanchenjunga Trek is a fantastic way to explore and experience some of the most beautiful and remote parts of Nepal, and the journey starts in Kathmandu and ends in Taplejung. Through the trek, we'll also gain a richer appreciation of the local landscape, flora, and fauna, and gain physical and mental strength. We'll also be rewarded with life-changing experiences that will last a lifetime.
Cultural and Natural Attractions on Kanchenjunga South to North Trek
The Kanchenjunga South to North trek provides a one-of-a-kind experience. Trekkers can explore the natural beauty of the Himalayas and the unique culture and lifestyle of the people living in the area. The trek is perfect for anyone looking for an adventure of a lifetime.
The Kanchenjunga South and North trek offers a unique blend of natural and cultural attractions. The trek offers magnificent views of the surrounding peaks, including Everest, Lhotse, Makalu, and many others. There are many natural attractions on the trek, including mountains, lakes, rivers, glaciers, and icefalls. Trekkers can also explore the eastern people's culture and lifestyle during the Kanchenjunga Circuit Trek. 
The cultural attractions of the trek include visiting traditional monasteries, stupas, and temples. The local people have kept alive their unique culture and lifestyle over the centuries. You can explore the popular handicrafts of the region and observe their spiritual rituals.  The trek also takes you to some of the most remote villages of Nepal, where you can learn more about their culture and traditions.
The trek takes you through remote Himalayan regions of Nepal, where you can observe the local culture and traditions. You can witness traditional dance and music performances by locals during your stay along the trail. Additionally, you'll find a unique blend of Buddhism and Hinduism in this region. Trekkers can also explore the culture of the local ethnic groups like Rai, Limbu and Magar. 
How to Prepare Physically and Mentally for Kanchenjunga South to North Trek
Preparing for the Kanchenjunga South to North trek is no small feat as it is a challenging and arduous trek that requires both mental and physical strength. It is essential to be well-prepared for the trek, and this guide will help you understand how to prepare your body and mind for the trek.
First and foremost, you should focus on physical preparation for the trek. This is an extremely demanding trek, so you should make sure that your body is fit and ready for the journey. You should start by building up your strength with regular workouts and exercise. This should include a combination of cardio, strength training, and stretching. Cardio exercises will help increase your stamina, while strength training will build your muscles and help you carry your trekking gear. Stretching exercises will help keep you flexible and prepare your body for the rugged terrain.
You should also ensure that you have the right equipment and supplies. Make sure that you have a good pair of hiking boots, appropriate clothing, a sleeping bag and mattress, and other necessary accessories. You should also bring enough food and water for the entire trek.
Mental preparation is also important for the Kanchenjunga South to North trek. You should be prepared for the physical and mental challenges of the journey. This means that you should be mentally strong and willing to push yourself. It is also important to practice mindfulness and self-care techniques during the trek, such as yoga and meditation.
Finally, make sure that you are well-rested before the trek. You should plan for enough rest days and try to sleep at least eight hours each night in the days leading up to the trek.
By following these tips, you should be able to prepare physically and mentally for the Kanchenjunga South and North trek. It is important to put in the effort and take the necessary steps to ensure that you are well-prepared for the journey. 
Packing List for Kanchenjunga Trek
First, it is essential to have a good pair of trekking boots. As Kanchenjunga South – North trek is extremely rugged terrain, you'll need a pair of boots that are both rugged and comfortable. Additionally, make sure that your boots are waterproof and have a good grip. 
The next important item to pack is a lightweight tent. A lightweight tent is essential for camping in the high altitudes of Kanchenjunga. Additionally, make sure to bring a sleeping bag and a sleeping pad, as these will provide warmth and comfort during your trek. 
Here's a comprehensive packing list for your Kanchenjunga South to North trek: 
A pair of Trekking boots
Lightweight tent
Sleeping bag
Several layers of warm clothing
Waterproof jacket
Warm hat and gloves
Sunglasses
Headlamp
First-aid kit
Energy-rich snacks
Freeze-dried meals
Hotels and Accommodation during Kanchenjunga South to North Trek
Hotels in the Kanchenjunga region range from small teahouses to luxury hotels. Teahouses are the most common type of accommodation in the region, as they are available in most villages along the trekking route. Teahouses offer basic facilities, including shared bathrooms and hot showers, with meals and snacks being served by the owners.
For those seeking something a little more luxurious, there are several hotels and lodges available in the region. Many of these hotels and lodges are equipped with amenities like hot showers, solar charging, and Wi-Fi. Many of these hotels and lodges have also adopted eco-friendly practices and have received awards for their commitment to the environment. These hotels and lodges offer a higher level of comfort and amenities that can be tailored to meet the individual needs of trekkers.
Additionally, there are several guest houses throughout the region that can be found along with hotels and lodges. These guest houses offer basic facilities and a comfortable place to stay during the trek. Guests can also enjoy a variety of activities in the local area, such as visiting religious sites and enjoying the local culture.
Our team will ensure that you have the best accommodation options available during your Kanchenjunga trek when you book with us. As part of our services, we make sure that our trekkers get the most out of their trek and stay in clean and comfortable accommodations. Furthermore, we offer some of the most convenient amenities, like hot showers, solar charging, and free Wi-Fi.
Meals During Kanchenjunga South – North Trek
The Kanchenjunga Trek is a challenging and remote trek that takes you through the unspoiled highland wilderness of Nepal. During the trek, it is essential to maintain a healthy diet to keep up with the physical demands of the journey. 
Throughout the trek, you will be relying on local foods. This is because the area is very remote, and any food items you carry with you will take up valuable space in your backpack. The local foods are also designed to provide your body with the energy boost it needs to survive the difficult terrain. 
The most common food you will find on the trail is dal bhat. It is a staple of the local diet in Nepal and is considered to be a complete meal. It is made of cooked rice with lentils of various types and is often accompanied by some side dishes including a vegetable dish and pickles. 
The meals during the trek are usually simple but nutritious, consisting of rice, lentils, vegetables, and meat. The food is prepared by experienced cooks who accompany the trekkers on their journey. Breakfast usually includes porridge, eggs, bread, and tea or coffee. 
Lunch and dinner consist of dal bhat (lentil soup with rice), vegetables, and meat (chicken or mutton). Trekkers can also enjoy local delicacies like momos (dumplings) and thukpa (noodle soup). 
It is recommended to carry some energy bars or snacks for quick bites during the trek. Trekkers should also drink plenty of water to stay hydrated throughout the journey.
Booking & Contact Information
Have you ever dreamed of exploring the spectacular beauty of the Himalayas? Are you looking for an exciting hiking and trekking experience? Well, look no further than Info Tours and Travel! We are a specialized company based in Thamel, Kathmandu, Nepal, offering a variety of trekking, hiking, sightseeing, and vehicle rental services. 
We offer a variety of customizable packages to suit your needs, whether it's a short excursion or a long trek. Our packages are perfect for solo travelers, families, and groups of friends! We have experienced guides that will take you through stunning trails and provide detailed information regarding the best places to visit. 
Here at Info Tours and Travel, we strive to provide our guests with an enjoyable and memorable experience. From the booking process to the actual trek, we ensure that you have the best experience possible. Booking with us is easy and stress-free!
To book your trek, visit our website and choose the trek that you would like to go on. After choosing the package, Book your trek, and you will soon receive a confirmation email. 
Best Alternative Treks
Furthermore, You can act us on our website or by calling or emailing us through the contact information provided below:
Thamel, Kathmandu, Nepal
Viber: (+977) 9841936940
Email: [email protected] 
So what are you waiting for? Book your trek today and get ready for an amazing adventure!
Itinerary
DAY 01
KTM To Biratnagar (By Plane or Bus) - 40 Minutes & drive to Ganesh chock 6-7 hours
We will start our first day of the Kanchenjunga an early morning breakfast at our hotel in Kathmandu. After morning breakfast, we will begin our journey from Kathmandu to Biratnagar by either taking a bus or a 40-minute flight. Biratnagar is a city located in the south-eastern part of Nepal.
Once we arrive in Biratnagar, we will start our drive to Thumbeding or Ganeshchock, which will take us around 6-7 hours to complete. We will follow the trail that leads through small villages, dense forests, and terraced fields. Along the way, we will have a chance to witness the beautiful rural lifestyle of Nepal and interact with locals. We will also enjoy the stunning views of the mountains and rivers that we come across during the trek.
Ganesh chock is a small village where we will spend the night before continuing our trek. During our stay, we can explore the village and its surroundings, learn about the cultures and traditions of the locals, and take advantage of the natural beauty of the area. The trek will also provide an opportunity to taste some local cuisine and relax after a long day of trekking.
Includes/Excludes
What's included?
Private vehicle for airport pickup and drop-off
Three daily meals during the trekking (breakfast, lunch, and dinner)
Private ground transportation according to the itinerary
Experienced, English-speaking, government-licensed trek guide
Staff costs, including salary, insurance, equipment, food, and accommodation
Down jacket and sleeping bag (to be returned after the trip)
All necessary paperwork and trekking permits, including TIMS
Medical kit carried by trek guide
Government and local taxes
Trekking certificate after completing the trek
What's excluded?
Nepalese visa fee
Excess baggage charges
Private transportation is not mentioned in the "What's Included" section
Additional night accommodations in Kathmandu due to early arrival, late departure, or early return from the mountain due to natural disasters or personal reasons
Lunch and dinner in Kathmandu (or in the case of an early return from the mountain)
International flights
Travel and rescue insurance
Trekking equipment
Personal expenses include phone calls, laundry, bar bills, battery recharge, extra porters, bottled or boiled water, showers, etc.
Tips for guide(s), porter(s), and driver(s)
Useful Info
Best Season for Trekking in Kanchenjunga South to North trek
Kanchenjunga (8,586 m) is the Third highest peak in the world and is home to some of the most breathtaking scenery on earth. Trekking in Kanchenjunga is an incredible experience and there is no better spectacular scenery on the planet.
But when is the best time to visit Kanchenjunga Trek?
Kanchenjunga is a great place to go trekking during the spring, as the temperatures are moderate and the high mountains are still snowcapped. Rhododendrons bloom during this time of year, creating a stunning carpet of vibrant colors in the foothills. Trekkers can explore the region on trails that open up during the spring months of March, April, and May.
Autumn in Kanchenjunga is another great time of year to go trekking as well. The temperature is a bit cooler and the high mountains are covered with snow, creating a spectacular backdrop for trekkers. The autumn months of September, October, and November are the best time to go trekking in the region and the trails open up for trekkers to explore the area.
When trekking in the Kanchenjunga region, trekkers should be aware of the unpredictable weather conditions that can arise. The best way to be prepared is by carrying the right clothing and equipment, such as waterproof clothing, gloves, headlamps, and trekking poles, to ensure a safe and enjoyable trek. Trekkers should also book a reliable guide and ensure that they are well-prepared to tackle the terrain and are aware of the local culture and customs.
No matter what time of year you plan on trekking the Kanchenjunga region, you are sure to have a unique and memorable experience. During the spring and autumn months, the region is alive with beautiful scenery and a unique cultural experience, making it the perfect time to go trekking.
Related: Hire Guide in Kanchenjunga Trek | Porter in Kanchenjunga Trek
Permits Required for Kanchenjunga South to North Trek
To undertake the Kanchenjunga Trek, trekkers need to obtain two permits: the Restricted Area Permit (RAP) and the Kanchenjunga Conservation Area Project (KCAP) permit. 
Restricted Area Permit (RAP)
Known for its spectacular scenery, remote villages, and mountaineering opportunities, the Kanchenjunga Region is a popular trekking destination. But the region is also home to four village development committees (VDCs) that are designated as restricted areas by the government of Nepal. The four VDCs, Yamphuding, Lelep, Paping, and Olangchung Gola, all in the wards of Taplejung district, have been designated as restricted areas for the protection of natural resources and the control of human activities.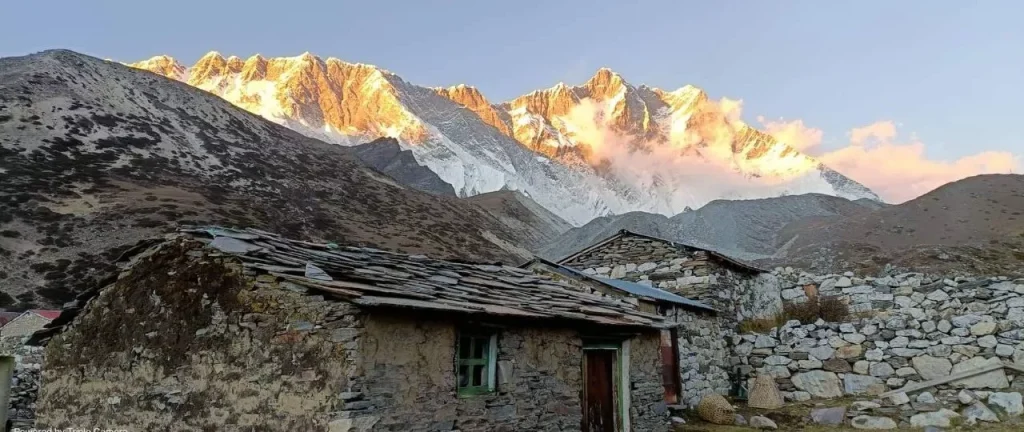 Therefore, all visitors to the Kanchenjunga Region must obtain a Restricted Area Permit (RAP) before they can enter the region. As the region is located close to the Indian and Tibetan border, the restricted status of the area helps protect against illegal activities, preserve the local flora and fauna, and control tourism.
The Restricted Area Permit (RAP) must be obtained from the Department of Immigration in Kathmandu prior to the start of the trek. To obtain the permit, trekkers must provide copies of their passports and visa, as well as an itinerary and a copy of their travel insurance. Additionally, trekkers may be asked to provide proof of their fitness and health by providing a medical certificate from a registered physician.
Restricted Area Permit (RAP) Cost:
$20 Per Person (For the first 4 weeks)
$25 Per Person (Beyond 4 Weeks)
Kanchenjunga Conservation Area Project (KCAP) permit
To visit the Kanchenjunga region, you will need a Kanchenjunga Conservation Area Project Permit. The permit authorizes visitors to explore the region and surrounding areas responsibly. It also helps to support local communities and their efforts to protect the environment.
The permit also serves as an additional layer of security for the region, as it requires visitors to follow a set of guidelines during their stay. These guidelines include restrictions on the type of activities that visitors can engage in and the amount of time they can spend in the region. It also serves as a reminder that visitors are responsible for their actions and should respect the rights of the local communities and their environment.
Kanchenjunga Conservation Area Project (KCAP) permit Cost:
2000 NPR or $20 USD for foreigners
500 NPR or $5 for SAARC Nations
Where to get the permit?
To start, you will first need to get a Kanchenjunga Conservation Area Project (KCAP) permit. You can get this permit directly from Kathmandu or from Nepal Tourism Board. You will need to submit your passport and two passport-size photographs and fill out a form. The permit is valid for two weeks and allows you to enter the area.
If you plan on entering a Restricted Area, you will need to join a certified trekking agency or hire a licensed guide. You cannot get the Restricted Area Permit without these qualifications.
When you book your Trek with us, Our team of experts will handle all the necessary paperwork for you, and we will arrange permits for restricted areas.
More Information: Kanchenjunga Trekking Permit
FAQs
How many days does it take to complete the Kanchenjunga South to North trek?
The Kanchenjunga South to North trek can take up to 21 days. We recommend you allocate enough time to cover the entire route and make the most of your adventure. However, you can adjust the length of your trip by taking a bus from Suketham on Day 19 if you're short on time.
What kind of accommodation is available on the Kanchenjunga South to North trek?
Group Discount
No. of PaxPrice per Pax

2-5

USD 1199

5-10

USD 1100
Other Packages